Why We Continue To Manufacture Our Garage & Trailer Cabinets in The USA
November 26, 2014
Although a subset of US companies have started to bring some manufacturing back to America, the overwhelming majority of firms continue to move manufacturing off shore in search of cheaper manufacturing costs. The cabinet industry is not immune to this trend. Luckily for our customers, we will always manufacture our aluminum cabinets in America.
Why? There are many reasons. For starters, our management and employees are committed to providing our customers with the best products on the market. As most consumers have figured out by now, it is hard to find higher quality products that are manufactured overseas. There are many reasons for this. For one, we want to be as close to our customers as possible because they provide us with priceless feedback about our garage and trailer cabinets. This feedback is based on real world use and is incorporated in our designs. Having a tight loop between our customers and our design and manufacturing team allows us to create and build the best cabinet systems on the market.
Another reason why we will only manufacture our cabinets in America is because we have been doing so for decades. That means that we have built up the manufacturing expertise necessary to iterate and adjust our process based on the situation in the factory. Although one could probably find a manufacturer to produce the same product overseas, the skill and experience necessary to produce the type of quality that is symbolized by our products can only be found in America.
Finally, we just think it's the right thing to do. We are not only proud of our aluminum cabinets, we are proud to be an employer and hire fellow citizens and contribute to the economic growth of our country. As long as there are customers out there that demand the best cabinets for their garage or trailer, we will continue to do business and manufacture our products in America.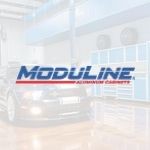 Moduline Cabinets
Moduline Cabinets provides military-grade aluminum cabinet solutions for car enthusiasts and professionals for over 30 years. Our designer appearance enhances garages and shops, and our cabinets stand up against the daily rigors of any environment.