Why Aluminum Makes the Best Residential Garage Cabinet Material
November 29, 2012
Designed to provide a lifetime of service, factory assembled 100% aluminum garage cabinets provide a fashionable, affordable, strong, rigid cabinet that will not sag or warp over time. Unlike many other cabinet materials, aluminum cabinets are highly resistant to mold, mildew, deterioration, do not attract dust nor cause static shock. Additionally, they do not rust in the presence of moisture … the perfect material choice for your facility.
To provide the ultimate in design versatility, a full integrated frame design with reinforced corners is preferred. In that, way they do not rely on side or back panels for strength or rigidity. With clear anodized front frames and baked enamel or powder coated panels, the need for functionality and stylish good looks seamlessly comes together. For strength and rigidity, the doors should be designed with double walls and inner hat bracing. Factory assembled with full length piano door hinges help prevent sagging and eliminate the need for any adjustments.
The drawer units and tool boxes are classified as "high density" storage modules. They have the capability of storing many items more efficiently than open shelves; freeing up additional space that can be dedicated to other uses. The best designed drawers open fully on ball bearing guides for trouble free service. Fully extended drawers allow total visibility and easy access to the items at the very back. Heavy duty drawer liners are a valuable option to protect tools and adjustable drawer dividers keep items separated and organized.
Aluminum base cabinets should rest solidly on adjustable aluminum "toe kick risers". The "toe kick risers" sit directly on the floor, allow for easy leveling of the base cabinets and fully support the weight of a cabinet loaded with equipment. No one will ever have to bend down on hands and knees to search for an errant item that has "rolled under the cabinet". Unlike cabinets with exposed legs, regular under cabinet cleaning of dirt and dust is now a thing of the past. Remember, toe kicks are standard for kitchen and bath cabinets for a reason. Why shouldn't they be standard for shop cabinets? Made of 100% aluminum, they will not rust or deteriorate in the presence of water … so go ahead and hose down your floor.
Sturdy and light weight, they install effortlessly with common household tools so there is no need for a forklift to move a 500 lb. steel cabinet into place.
Easy to select, purchase and install; modular aluminum storage cabinets are the perfect choice for today's busy homeowner.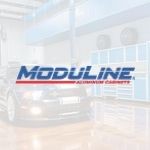 Moduline Cabinets
Moduline Cabinets provides military-grade aluminum cabinet solutions for car enthusiasts and professionals for over 30 years. Our designer appearance enhances garages and shops, and our cabinets stand up against the daily rigors of any environment.