What Are You Missing When It Comes to Garage Storage?
April 6, 2013
Until you maximize your garage storage, you will not know what you are missing! Storage cabinets can take your garage from sloppy and disorganized to neat and functional in just a matter of minutes. There are so many items you can store in garage cabinets – you are only limited by the number of cabinets you have. With Moduline cabinets, the modular design makes it easy to install some cabinets now and some later. Here are just a few benefits to installing Moduline Aluminum Storage Cabinets:
Store your tools and equipment in safe, secure locations – Always know where to find all your tools, parts and equipment when you have "a place for everything and everything in its place" With the Moduline Lock Latch option, never worry about someone taking your possessions again because your items will be secure behind locked aluminum doors.
Give your garage a sleek, professional appearance – Our aluminum storage cabinets are in use by professionals around the world and come in a variety of sizes and colors to help you create the polished, professional look you want for your garage.
Mix and match to fit your garage and storage needs – Our modular cabinets can be mixed and matched in a variety of patterns to meet your storage needs and fit the layout of your garage. You can buy as many or as few cabinets as you need and easily add more in the future.
Maximize your garage storage now with help from Moduline Aluminum Cabinets. You can view our photo gallery of garages and see how hundreds of our happy and organized customers have used cabinets to maximize their space. Then call toll free and one of our storage experts will be happy to help get you started. 888-343-4463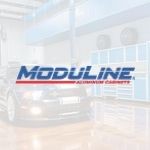 Moduline Cabinets
Moduline Cabinets provides military-grade aluminum cabinet solutions for car enthusiasts and professionals for over 30 years. Our designer appearance enhances garages and shops, and our cabinets stand up against the daily rigors of any environment.