A Van Upfit Is the Ideal Way to Create the Perfect Storage System for Your Van
May 11, 2020

Aluminum Van Cabinets: The Ideal Van Storage System
Van upfits can transform your mobile workspace and make it more functional. This article provides you with valuable information on how to choose aluminum van cabinets that will make a big difference in your work organization and efficiency. It will also provide you with some ideas on how to utilize the cabinets and shelving systems that go along with your aluminum van cabinets.
Top Storage Ideas for Your Van
Large shelving units are ideal for handling the storage of large, bulky pieces of equipment, while lockable cabinet options are perfect for items such as power tools. Use our QuikDraw® toolboxes to organize your tools for each one to have its own spot (to find it easily) for when you need them. It is essential to think about your individual storage needs when undertaking an upfit.
Types of Van Shelving Systems
Moduline Cabinets offers van upfit shelving and cabinet storage solutions that is ideal because it can be configured to work in a variety of van spaces and can also be expanded depending on the storage need and type of industry work.
Why Should You Choose Aluminum as Material for Your Van Cabinet
A key consideration when undertaking van upfits needs to be weight distribution and the payload capacity of your van. Moduline Cabinet's military-grade aluminum van cabinets are a great choice because they are both durable and lightweight at the same time. They are also resistant to rust issues.
Where to Find the Best Aluminum Van Cabinets
At Moduline Cabinets, we offer the best military-grade aluminum van cabinets on the market, and we specialize in helping our customers with van upfits. Our cabinet layout experts will be happy to speak to you about designing the perfect van cabinet layout. Today is the best time to contact our team at (888) 343-4463.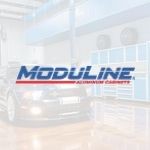 Moduline Cabinets
Moduline Cabinets provides military-grade aluminum cabinet solutions for car enthusiasts and professionals for over 30 years. Our designer appearance enhances garages and shops, and our cabinets stand up against the daily rigors of any environment.