Use Cabinets for Extra Storage
March 29, 2014
Storage cabinets are a boon to any home or business. Places to store things are often taken for granted, but also needed. Cabinets keep clutter off the tables and floors, and also keep rooms looking clean. Less clutter also makes each room look and feel larger. There are several places where a nice set of cabinets would do a lot of good.
1. Mechanic Shops. Custom storage for tools is a great advantage to automotive repair shops detail shops and dealerships. It keeps things clean and organized, which means no one is searching for a certain tool.
2. Residential Garages. Cabinets are an ideal place to put away tools and other items that are scattered in the garage. They also will prove valuable when selling a home, since many people love to see custom storage built into a home.
3. Laundry rooms. If your laundry area is a separate room, chances are high that storage would be an ideal addition. With storage cabinets, you would never have to worry about the room looking cluttered or where to put the extra bottles of detergent you got on sale.
4. Media rooms. A media room would benefit from cabinets placed along the wall. DVDs, games and other items could be stored out of the way and in an organized manner.
5. Industrial warehouse and Laboratories. Equipment storage is always in high demand in warehouses and Laboratories. Not only can tools be stored in cabinets, but also parts for heavy duty equipment.
6. Hobby Shops. Any hobby shop would benefit from cabinets for storing all the required tools, parts and supplies.
Moduline Cabinets fit perfectly into all the situations listed above. We often provide cabinets for these and many more. Have a look at our wide selection of garage storage cabinets. Moduline also provides a full line of aluminum cabinets that are made to be mobile for enclosed trailers and all types of vehicles. Call us today, and we will help you with a design and layout that will have you organized with style!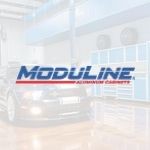 Moduline Cabinets
Moduline Cabinets provides military-grade aluminum cabinet solutions for car enthusiasts and professionals for over 30 years. Our designer appearance enhances garages and shops, and our cabinets stand up against the daily rigors of any environment.