Two kinds of cabinet companies
June 13, 2015
There are two kinds of cabinet companies out there. Those that will tailor make you cabinet system to you exact dimensions including custom cabinets if needed, and those who won't. Moduline is one of those companies that will.
Whether you have a home garage, professional facility/shop, trailer, command vehicle or aircraft hangar, Moduline will design a cabinet system that fits your needs and you space. There really are no two spaces alike and because of this, there really isn't one cabinet layout that works for everyone. There are also times where even the cabinets themselves won't work and you may need one designed custom just for you. No matter what the situation, Moduline is there to help. From our huge selection of "standard" size cabinets and tool boxes to one off custom solutions, Moduline will create a solution that will have you looking good and working more efficiently.
Moduline has a reputation for superior customer service as well. You don't wait days for a quote and we will give you CAD drawings usually the same day you ask. We pride ourselves on quick, accurate service and answer's because we believe in doing business with integrity and understand your time is valuable. When you want the highest quality aluminum cabinet system, a friendly and knowledgeable cabinet expert to help you and service that is second to none, you want Moduline. We're here to help. Remember, professional grade, designer appearance and delivered as promised.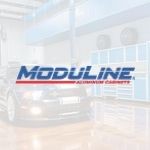 Moduline Cabinets
Moduline Cabinets provides military-grade aluminum cabinet solutions for car enthusiasts and professionals for over 30 years. Our designer appearance enhances garages and shops, and our cabinets stand up against the daily rigors of any environment.