Transform your Garage for Extra Room and to Add Value
January 2, 2017
Consider this – The garage is actually more important to people buying homes than the kitchen. It's true and now a day's people are making more of an investment in the garage because it is really the most underutilized room in the house. For those who don't plan on moving, it's also a great way to add to their home and its value. It's a less expensive alternative to putting on an addition. Today, people are using their "extra" room for all sorts of things including fitness rooms, hobby shops, and gathering areas for friends. There are many things to consider when renovating a garage because it still will be a garage.
The first thing most think of is the floor. You can polish the concrete, add ceramic or plastic tiles or use epoxy paint. A beautiful floor can really transform your garage into a beautiful living/playing area. There are tons of products out there but one in the tile market that stands out is Swisstrax floors.
The next thing to think about is the cabinets. No matter what, the garage will be a place to store items but the way you store them can make all the difference in the world. Keep as much as you can inside the cabinets. Don't use open shelving as all your stuff will still be visible to you and guests and does not provide a clean look. Let's face it, you don't have all your dishes and glasses in the kitchen just sitting on shelves do you?  Choose a high end looking cabinet but don't go cheap. Inexpensive cabinets will quickly prove to be just that. Choose a cabinet system that will last. It might be a few more dollars upfront but over time, they will pay you back. High quality and high fashion cabinets will also increase the value of your home. Should you ever decide to sell, having a system like Moduline Cabinets will really grab a buyer's attention just based on the brand. It's kind of like having a Sub-Zero refrigerator or a Wolf stove in the kitchen. If you're not selling, a high end cabinet product will really get you to appreciate your newly transformed space all the more.
Add some quality light fixtures, some paint on the walls as well as a few decorative items and you have a new space that will be sure to please you and impress the neighbors. Oh, your car will thank you too.
Check out our Garage Cabinet Photo Gallery to view design ideas for your new garage transformation.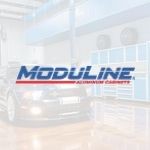 Moduline Cabinets
Moduline Cabinets provides military-grade aluminum cabinet solutions for car enthusiasts and professionals for over 30 years. Our designer appearance enhances garages and shops, and our cabinets stand up against the daily rigors of any environment.