P

ro

II

™

SERIES Trailer & Vehicle Combinations
The following pages show our most popular combinations of trailer and vehicle cabinets. They are shown for ease of ordering and to illustrate how our modular cabinets can be used together. Please keep in mind that these are examples.
P

ro

II

™

SERIES Modular Aluminum Trailer & Vehicle Cabinets
Moduline aluminum trailer cabinet combinations are perfect for almost any trailer or specialty vehicle needing high quality and lightweight storage. Our pre-configured aluminum cabinet combinations make it easy to buy or can help you get an idea of how your cabinet system might look. Of course these configurations aren't limited to what you see. Being a completely modular system, Moduline cabinets can be put into almost any configuration you want based of the space you have available. Feel free to call one of our cabinet specialists today for a complimentary layout consultation.
All drawers featureSingle Action Latch System (Pat #9,149,117)

Completely assembled Modular Aluminum Storage Cabinets

Clear anodized and sealed front frames

Manufactured from military-grade aluminum with high gloss finish.

Chrome textured Trigger Latches

Solid all Aluminum Countertop included as shown

Fully adjustable shelf systems accommodate Adjustable Shelves or optional Pull-Out Shelves.

One adjustable shelf included with every base cabinet.

One adjustable shelf included with every closet cabinet.

One adjustable shelf included with every wall cabinet 24″ high or taller.
Moduline makes it easy for you to outfit your trailer with high quality, lightweight cabinets. With these pre-configured cabinets your trailer will look like all the pros. No matter what type of trailer or specialty vehicle you have, Moduline cabinet combinations are the perfect solution. If you don't see exactly what you're looking for or need help with the layout, contact a trained Moduline professional and we'll be glad to help get your trailer organized with style!..
Standard Color Options
Signature Black
Red
Moduline Blue
Yellow
White
Light Gray
Royal Blue
Actual Colors May Vary From Website.
Clear Anodized and Custom Colors Available
Adjustable Pull-Out Shelves
Countertops available in stainless steel, butcher block or aluminum.
Moduline Extreme Liner™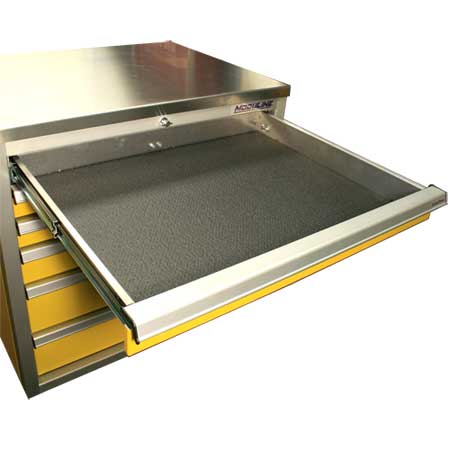 Non-slip, PVC-coated polyester holds tools in place
Solid material (not mesh) black in color
20.8″ wide X 1/8″ thick
The 20.8″ width fits a drawer in a 24″ deep Moduline Tool Box or Drawer Unit
Protects tools from scratching and marring
Works on any drawers or shelves
Easy to trim for a perfect fit
Works great on shelves to cushion fragile items
Optional Power Grid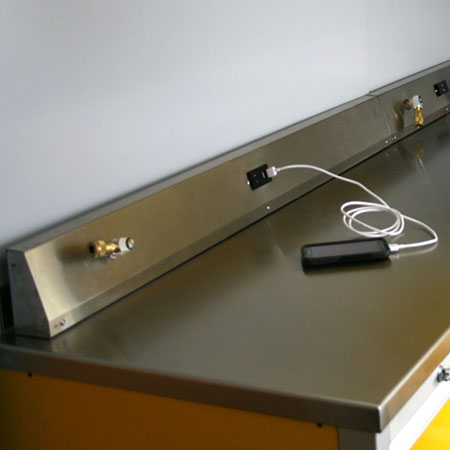 A perfect and convenient way to incorporate electrical, air and USB into your cabinet system
Beautiful brushed stainless steel finish goes well with any of our bench top materials
Power grid system has pre-punched access holes for easy wiring from the wall
Available in three different lengths that can be combined to fit your counter length
End caps create a clean finished appearance
Locking Latches for Cabinet Doors
Lock option for Drawer Cabinets, locks all drawers with thumb lock mechanism and one key