P

ro

II

™

SERIES: Our Flagship Mobile Cabinet System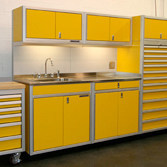 Our flagship aluminum trailer and vehicle cabinet line pretty much started it all. Uncompromising professional quality, coupled with the designer appearance that set the standard for all others that follow. Our metal trailer cabinets leverage the beauty of aluminum to deliver cabinets that are like no others. Fully versatile and customizable, Moduline's modular ProII™ SERIES metal mobile cabinets and tool chests represent your best option for a cabinet system to meet the unique needs of any mobile application. Precision and craftsmanship is embodied in every aspect of these storage cabinets, from engineered closets and drawer units to metal garage wall cabinets and mobile tool boxes. You can mix and match between our offerings to fit your personality and space. Plus, our patented QuikDraw® technology lets you open and securely close the drawers with ease.

S

portsman

II

™

SERIES: Mobile Cabinets, High Value Without Compromise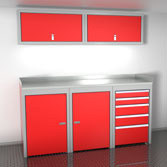 Not everyone has the need or budget for a professional series cabinet system for their trailer or vehicle and that's why Moduline has redesigned the all new Sportsman II™ SERIES cabinets. Incorporating many of the key elements from our ProII™ SERIES and packaging them in a value focused system; more people can now enjoy the quality of the Moduline brand. With features like our patented QuikDraw® technology, lift-up doors, adjustable shelf system and sleek gray colored frames to offset the main color, these high alloy aluminum cabinets are made to be mobile. We even have V-Nose conversion kits for trailers. With minimum assembly required allowing for easy shipping and all assembly hardware included, these cabinets make it as easy as buy, ship, build, DONE!
Cabinets For Any Mobile Application
Moduline Aluminum Cabinets have the best solution available any of your enclosed trailer or specialty vehicle storage and organizational needs. Whether it's the ProII™ SERIES or the Sportsman II™ SERIES we will help you design and create the perfect mobile cabinet system to meet your needs. A properly designed cabinet system will meets your demands and help create efficiencies to achieve your objectives. Call us today for a complimentary design consultation at 888-343-4463 and get started today!