Trailer Cabinets That Fit
February 22, 2014
When you utilize an enclosed trailer for your career, you know how important it is to have just the right amount of storage space. Yes, the enclosed trailer already provides a certain amount of storage space. However, the space inside the trailer is open – and that may not always work for keeping smaller items secure and organized. In cases where you need to store and secure items of various shapes and sizes but you still want to ensure that your trailer is a functional workspace, consider the benefits of enclosed trailer cabinets.
When you think of installing cabinets inside a trailer, you may be under the impression that the cabinets will take up too much room and not function as needed. This is a common misconception about trailer cabinets. The truth is that there are plenty of cabinets that are not designed for use in trailers – but people still use them, because they are a cheap option. These are the cabinets that take up too much space and are not functional. When you purchase cabinets that are designed specifically for use inside an enclosed trailer, you need not worry about loss of space.
Moduline Trailer Cabinets are designed to fit and function in the enclosed trailer environment. Our cabinets will fit exactly where you need them because they are modular and are available in many standard sizes and styles. Moduline Aluminum Storage Cabinets are lightweight but are also extremely strong and durable. In other words they are made to be mobile. They will provide you with ample storage and enhance your workspace. We can fit cabinets into any trailer, big or small. So, contact us today, and let our experts help you create a functional, organized workspace out of your enclosed trailer.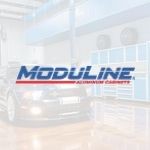 Moduline Cabinets
Moduline Cabinets provides military-grade aluminum cabinet solutions for car enthusiasts and professionals for over 30 years. Our designer appearance enhances garages and shops, and our cabinets stand up against the daily rigors of any environment.