Trailer Cabinets and Accessories Make Racing a Success
May 25, 2013
If you own a trailer, you know how important it is to have enough storage space. The racing circuit is a busy lifestyle. You travel from one race to another, and it is imperative that you have everything you need at each race. Without the right storage space inside your trailer, you could wind up forgetting something vital. Here at Moduline Cabinets, we specialize in helping you maximize the storage space inside your trailer with our cabinets and trailer accessories. We started Moduline Cabinets over 15 years ago to fill a need for durable and lightweight aluminum cabinets to organize storage in race trailers. Since then we have expanded our cabinet lines to provide for commercial and residential shops, garages, specialty vehicles and more.
The installation of our quality aluminum cabinets will provide you with ample space to store all of your necessities. With our accessories, you can transform your trailer into a repair shop on wheels, complete with sinks, countertops, even a desk. You will have all you need at your fingertips to make each race a success. Each one of our products is manufactured to our high standards, so quality is always top notch. Contact us today to learn more about our selection of cabinets and accessories for your trailer.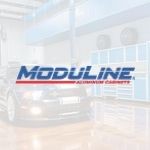 Moduline Cabinets
Moduline Cabinets provides military-grade aluminum cabinet solutions for car enthusiasts and professionals for over 30 years. Our designer appearance enhances garages and shops, and our cabinets stand up against the daily rigors of any environment.