Time for Top Alcohol Funny Car at the Gatornationals
March 10, 2011
The Moduline race team is on the road to the 42nd annual Tire Kingdom Gatornationals in Gainesville, Florida. This weekend will be the first time out this year for the team. A long winter's worth of work is behind them and they are ready to put the rubber to the pavement.
Top alcohol will have 2 rounds of qualifying on Friday March 11, 2011 and a third round on Saturday morning. Eliminations begin on Saturday afternoon. The Gatornationals are as important to race fans on the east coast as the Winternationals are to fans on the west coast. It's always an important event.
Tom "the mongoose" McEwen's drag racer magazine will be at the track for a photo session this weekend with the Moduline Mustang and the crew. Owner/driver Paul Gill has been looking forward to this race all winter and is anxious to bring the purple Mustang back to the top of the pack.
Stop by the trailer, say hello and check out the assortment of cabinets we have lining the walls. They'll be happy to answer any questions you may have about all the quality products we build. We have a full line of accessories for your trailer or garage. But the most important thing to remember is; these cabinets are all "MADE IN AMERICA" .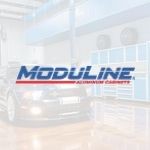 Moduline Cabinets
Moduline Cabinets provides military-grade aluminum cabinet solutions for car enthusiasts and professionals for over 30 years. Our designer appearance enhances garages and shops, and our cabinets stand up against the daily rigors of any environment.