The perfect countertop
June 7, 2012
Are you looking for a countertop that is a perfect fit for your shop or garage workbench?
Now you can rely on Moduline to make that perfect countertop you have been searching for. Our countertops fit perfectly on the cabinets we build. We can also custom fabricate countertops in Aluminum or Stainless Steel to fit most of the needs people have for countertops. We can do this because we don't supply you with an off the shelf snap together piece. Our countertops are made from SOLID material and vinyl coated to protect it during transit.
Use them alone, on top of our cabinets or with a substrate under it. Don't settle for anything less than the best when you have a lot of work to get done.
Moduline Stainless Steel and Aluminum countertop features:
2.5″ High splash
Solid material, not laminated
Minimal maintenance
Heat resistant, anti-bacterial surface
Available with sink cutouts
Custom lengths
Creates a sleek, contemporary style workbench
Eco-friendly.
Moduline aluminum and stainless steel countertop materials help contribute to a LEEDS building certification.
Aluminum countertops are custom fabricated from 1/8″ thick solid high quality 5052 alloy aluminum.
Stainless Steel countertops are custom fabricated from heavy duty 14 gauge, high nickel content type 304 stainless steel with a # 4 brushed polish finish.
Now also available 1 3/4″ thick Butcher Block, crafted by the Bally Block Company for Moduline Aluminum Cabinets.
Get your workspace cleared and do it right with Moduline aluminum cabinets and countertops. You won't regret it! Call now toll free 888-343-4463.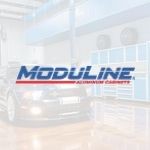 Moduline Cabinets
Moduline Cabinets provides military-grade aluminum cabinet solutions for car enthusiasts and professionals for over 30 years. Our designer appearance enhances garages and shops, and our cabinets stand up against the daily rigors of any environment.