The Last Frontier
October 26, 2013
The last frontier of many homes is the garage. It's usually the last place we think of to remodel or decorate or make nice in any way. I mean let's face it, for years the garage was just a place to keep all our stuff, our tools, our bikes, our cars and quite honestly, a lot of junk. People look at garages today much differently. They are viewed as yet another room of the house with a lot of potential to be more than just a place for our stuff. The garage can now be that man cave, the family room, the home gym, a personal museum or just a really cool place to hang out.
The first thing to do is put away all your stuff. The best way to do this is with quality storage cabinets by Moduline. Moduline cabinets are completely modular allowing for almost endless configurations to fit almost any space. They're professional grade and have a designer appearance so they will not only perform, they'll look great and add value to your home. Oh, and with our Lifetime warranty, you'll never have to worry about that off chance something might not live up to expectations. For more information and for help with design layout and cabinet choice, contact a professional Moduline expert and let us help you.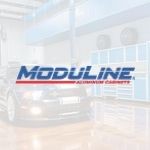 Moduline Cabinets
Moduline Cabinets provides military-grade aluminum cabinet solutions for car enthusiasts and professionals for over 30 years. Our designer appearance enhances garages and shops, and our cabinets stand up against the daily rigors of any environment.