The Importance Of Weight For Trailer Cabinets
March 14, 2015
Cabinets for trailers and vehicles are one of Moduline's most sought after products. When choosing between vendors, some people overlook how important the weight of the cabinets are for their trailer. There are a whole host of advantages that well-built, lightweight cabinets have over heavier alternatives.
To begin with, the heavier an item is, the more energy it takes to move it. Trailers and vehicles often travel quite a distance between homes and their destination. Hence, the heavier the trailer is, the more energy it will take to transport it from one location to another. More energy translates to more gas, which means that drivers are spending more money at the pump getting from point A to point B. We are fully aware of this reality, which is why all of our cabinets are made out of aluminum to cut down on our cabinets' weight without sacrificing quality or craftsmanship.
In addition to saving money on gasoline, lightweight cabinets will contribute to the longevity of your vehicle. Excessive weight can take a toll on your vehicle, shortening the lifespan of specific parts like shock absorbers, and increasing the frequency in which you have to visit your mechanic. That's why our customers appreciate that we have taken the time to engineer cabinets that are tough enough to be backed by a lifetime warranty, but still are light weight and perfect for mobile applications.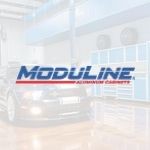 Moduline Cabinets
Moduline Cabinets provides military-grade aluminum cabinet solutions for car enthusiasts and professionals for over 30 years. Our designer appearance enhances garages and shops, and our cabinets stand up against the daily rigors of any environment.