The Benefits of Using Stainless Steel Countertops
January 18, 2016
In the past stainless steel countertops were only found in commercial kitchens, but now they are rapidly becoming a popular option in residential kitchens, garages, shops and many specialty applications. There are many good reasons for this trend:
Incredibly durable – Solid high quality all stainless steel countertops are virtually indestructible and last a lifetime. Stainless steel is non-porous, so liquids, chemicals and other substances will not penetrate into the material. This material will not stain! Bacteria, mold and germs don't stand a chance with stainless steel.
Heat resistant – No need to worry about any damage from hot projects or hot objects on stainless steel countertops. Your counter will also stay cool during the hot summer months.
Easy to maintain – Spills and stains can be cleaned up quickly and easily by wiping them up. To clean the stainless steel countertops simply wipe with a microfiber cloth and a solution of water and a few drops of dish soap. Dry thoroughly. You can also use stainless steel cleaner to remove fingerprints and make the countertop shine.
Aesthetically pleasing – Stainless steel countertops are bright and attractive. With integrated backsplash they will provide a clean and elegant tailored look you will be proud of.
Moduline cabinets are available with 075″ thick solid high quality all stainless steel with a #4 polished finish. Our countertops are solid stainless steel, not laminated to particle board. We custom fabricate our stainless steel countertops and provide them ready to install and can be seamless up to 12 feet. splash guards are standard and side splash guards are available at no extra cost.
Moduline also provides a convenient solution to add a sink to your work space. We help you design your cabinet layout featuring one of three high quality sinks we offer to meet your specific needs or you can supply your own. We'll create the cut out in your countertop so when you receive your cabinets you can easily drop in the sink.
Contact us today to learn more about our selection of storage cabinets, and let one of our experts help you choose the best layout to fit your particular needs.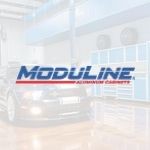 Moduline Cabinets
Moduline Cabinets provides military-grade aluminum cabinet solutions for car enthusiasts and professionals for over 30 years. Our designer appearance enhances garages and shops, and our cabinets stand up against the daily rigors of any environment.