Summer savings on Aluminum Cabinets
July 4, 2014
Summer is heating up and so are the savings at Moduline. This is a great time of year to get your garage; trailer or shop organized and set up with top of the line aluminum cabinets. Getting the garage set up the way you want and be able to enjoy it when the warm weather is still around is great. It's even better that they're on sale right now with up to 20% off.
No matter what the environment, aluminum cabinets are the best choice. They don't rust, rot, mold or mildew like other cabinet materials. Our design makes them as strong as or stronger than other materials as well. So much so that they come with a lifetime warranty. The designer looks and precision engineering make Moduline cabinets one of the most sought after cabinet brands on the market. No matter if for your personal garage, professional shop, business, trailer or specialty vehicle, Moduline Cabinets work and work well.
Make sure to call and have one of our cabinet experts help with a complimentary design and layout for you. We'll help you through the process from beginning to end. We pride ourselves on delivering first class service and make it our number one priority. You won't find a better aluminum cabinet system and no better company to help make your dream garage a reality. Get organized with style today with Moduline.
* Limited time offer. Not valid with any other offer. Available on new orders only. Minimum purchase of $1000.00. Maximum discount is 20% on a purchase of $20,000 or more. Good on Moduline manufactured products only. Custom cabinets excluded. Discount is rounded down to nearest thousand. Discount not applied to shipping. Other restrictions may apply.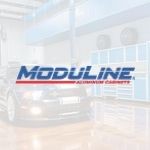 Moduline Cabinets
Moduline Cabinets provides military-grade aluminum cabinet solutions for car enthusiasts and professionals for over 30 years. Our designer appearance enhances garages and shops, and our cabinets stand up against the daily rigors of any environment.