Summer is still here
August 3, 2013
Summer is still here and the weather is still great. Is your garage still a mess? Don't worry, there's still time to get organized and get it done with style. Moduline cabinets are the perfect choice for garage cabinets and organization. They have a sleek modern design that compliments any garage decor. The all-aluminum construction is strong and durable and won't rust, mildew, corrode, crack or rot like other cabinet materials. Moduline cabinets are also modular meaning there are plenty of different sizes and styles to choose from allowing you to create a layout that fits your space perfectly without having to settle for just a few standard sized units. There are tool chests, drawer units, base storage units, closets and overhead wall cabinets all designed to make your garage or shop beautiful and functional. We also have the Moduline Space Saver™ Sliding Door Cabinets that allow you to easily access items stored at the side of your garage even when the vehicle is parked inside.
Don't let the rest of summer pass by without setting up your garage. Give Moduline a call and let one of our trained cabinet experts help you design a cabinet system that will increase your home's value and get you organized with style. Contact us today at 888-343-4463 or Email us at sales@modulinecabinets.com. We look forward to helping you.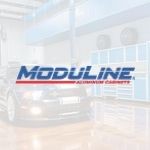 Moduline Cabinets
Moduline Cabinets provides military-grade aluminum cabinet solutions for car enthusiasts and professionals for over 30 years. Our designer appearance enhances garages and shops, and our cabinets stand up against the daily rigors of any environment.