Summer's here
June 21, 2015
Summer's here (FINALLY!) and what better time to get started on garage renovations. Moduline Aluminum cabinets are a perfect addition to any home garage, professional shop or trailer. With our large selection of sizes, styles and colors, you can be sure when you add Moduline, you are adding some of the finest cabinets and tool boxes available. Aluminum is a perfect material because it won't rust or deteriorate like other materials. It's strong too. Our engineers put a lot of time into designing a superior cabinet that withstand some of the toughest conditions all while giving them the aesthetics that will compliment any space. Used and tested by some of the world's most famous companies, you can be sure that a Moduline system will be the last cabinet system you ever need. Features include our famous QuikDraw latch system, reinforced frames, flush mounted trigger latches and toe kicks for easy leveling and keeping you from having to clean under your cabinets.
Our customer service is second to none. When you call Moduline, you get your complimentary layout and quote quickly. You won't wait for them like you will with other cabinet manufactures. You get experts to help give suggestions on the best way to utilize your space, what cabinets would work best for you and make the process extremely easy and efficient. When only the best will do for you, your home or your business, choose Moduline Aluminum cabinets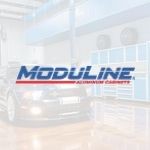 Moduline Cabinets
Moduline Cabinets provides military-grade aluminum cabinet solutions for car enthusiasts and professionals for over 30 years. Our designer appearance enhances garages and shops, and our cabinets stand up against the daily rigors of any environment.