Stay Safe and Organized with Trailer Storage Cabinets
February 23, 2013
When you use a trailer as part of your job or hobby, such as for hauling tools and equipment, it is important to make sure that the trailer is equipped to carry the various items. Our mobile storage cabinets, designed for trailers and vehicles, are the perfect option. Many of our aluminum storage cabinets are used by the military and professional race teams in mobile applications. With the installation of cabinets inside your trailer, you can make sure that all of your equipment, small or large, has a secure spot for storage. Not only will this help you with the organization of the equipment inside your trailer, it will also ensure that you are transporting the items in a safe manner – you will not have to worry about opening up the door of the trailer and having something come flying out at you because it wasn't secured down.
Here at Moduline Cabinets, we carry a wide selection of mobile – vehicle and trailer cabinets and accessories. From a small V-nose to a 53 foot long maintenance trailer, we can help transform your vehicle into a functional workspace with organized storage. Contact us today to learn more about our trailer cabinets and accessories and let one of our experts help you place your order. 888-343-4463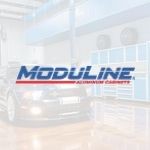 Moduline Cabinets
Moduline Cabinets provides military-grade aluminum cabinet solutions for car enthusiasts and professionals for over 30 years. Our designer appearance enhances garages and shops, and our cabinets stand up against the daily rigors of any environment.