Spring Is Around The Corner
March 8, 2014
Although it may still be cold outside (for many of us anyway), don't fear, spring is near. That means it's not too early to start thinking about spring cleaning and getting organized. One of the first places that usually needs a lot of attention after a long cold winter is the garage. Typically we tend to let things pile up and get a bit messy in here. The cars pull in water, snow, salt and dirt which make it even worse. There are some simple steps however that will get your garage in order relatively quickly.
Wash the floor. This is an easy one. Usually a hose and push broom and or squeegee may be all you need on a cement or epoxy floor. If you have the plastic tile flooring, a hose is about it.
Get a garbage bin. You may need more than one depending, but start going through all you have compiled in there and start throwing away what you don't need. If you haven't used in in the last year, you probably aren't going to use it.
Put your things away. Remember mom saying this when you were a kid? Well, do it. You may need some hooks, shelves and of course cabinets. Cabinets will get your garage not only organized but looking great too. There's no better feeling than having all you stuff in its place and actually having a place for it all. Well, maybe there are better feelings but that one IS pretty good.
When choosing the right garage cabinets, aluminum tends to be the best choice based on durability, usability and looks. Aluminum won't rust, rot, mold or mildew like other materials. It's durable and honestly looks great. If you need help in choosing the right cabinets for your garage or need help with the layout, contact us here at Moduline and have one of our cabinet experts help you get organized with style.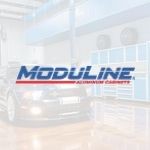 Moduline Cabinets
Moduline Cabinets provides military-grade aluminum cabinet solutions for car enthusiasts and professionals for over 30 years. Our designer appearance enhances garages and shops, and our cabinets stand up against the daily rigors of any environment.