Our mid-tier, lightweight aluminum cabinet series with features for small mobile applications.
SportsmanII Series Applications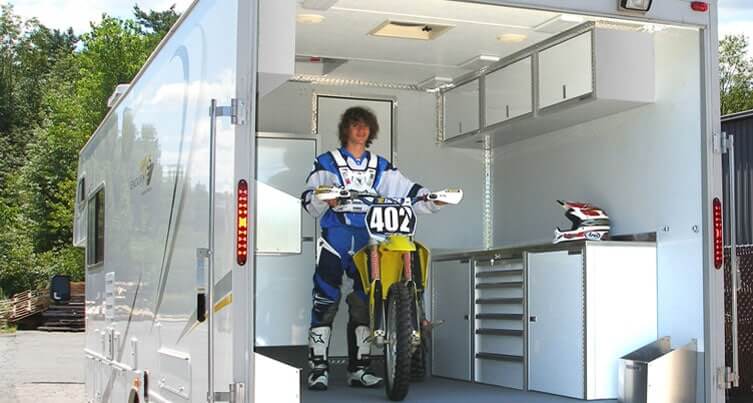 SportsmanII Series Key Features
Military-Grade Aluminum

Aluminum has a higher strength to weight ratio than steel, but is also lightweight. Lightweight is exactly what you want in a trailer or other mobile application where any extra weight directly impacts your fuel economy. For anything on wheels, aluminum is the clear choice.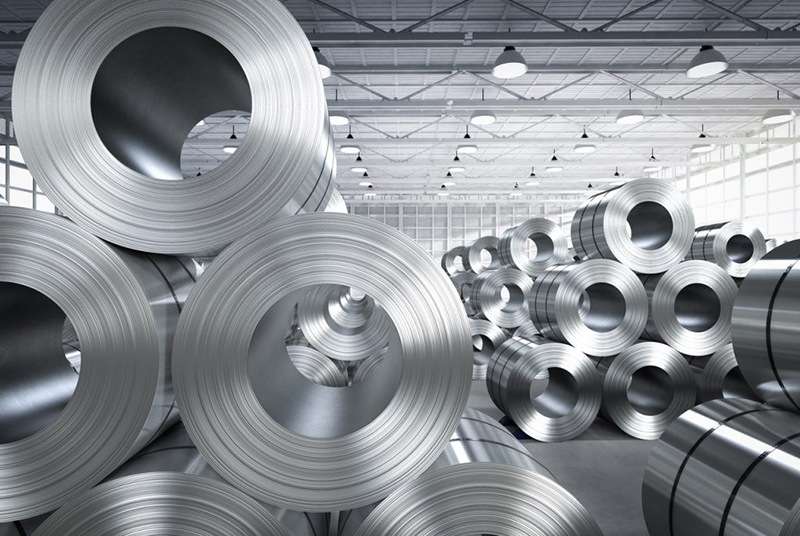 QuikDraw® Latch System

Our patented latch system keeps drawers securely closed in transit without the need for a key lock, yet amazingly simple to open with one finger anywhere along the handle. QuikDraw® is whisper quiet and engineered to allow for maximum drawer capacity.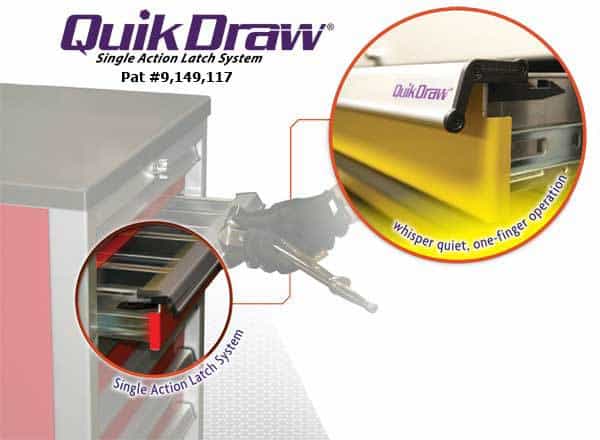 Lift-Up Doors

The gas spring stay allows the door to stay up and out of the way making the cabinet safer than free-swinging doors. A great hands free option that also sweeps a smaller area when opening.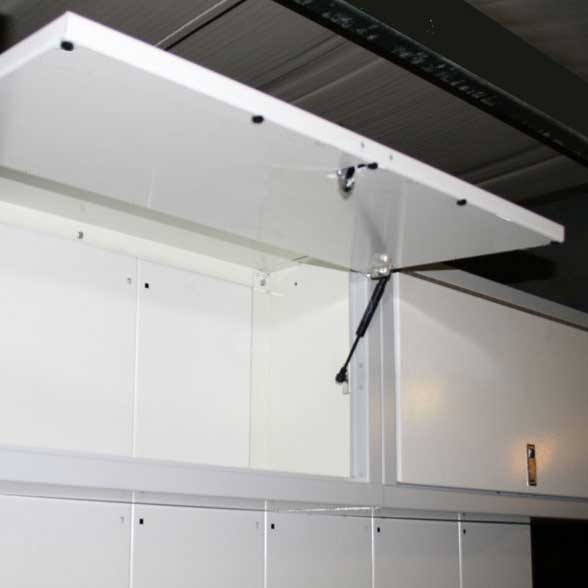 Solid Aluminum Countertop

Our solid aluminum countertop is extremely durable and lighter than steel making it perfect for a mobile environment. Comes with an integrated backsplash and can be seamless up to 11 feet.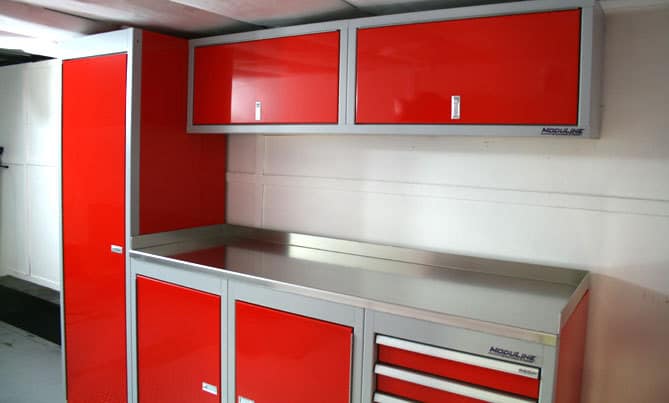 Lifetime Warranty

Cabinets are warrantied to the original owner against defects in manufacturing, materials and workmanship for the lifetime of the product. Click here for further details.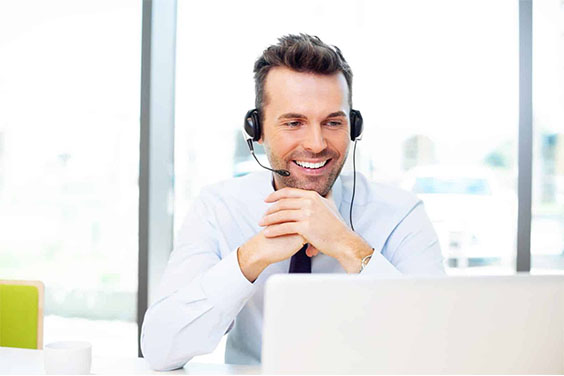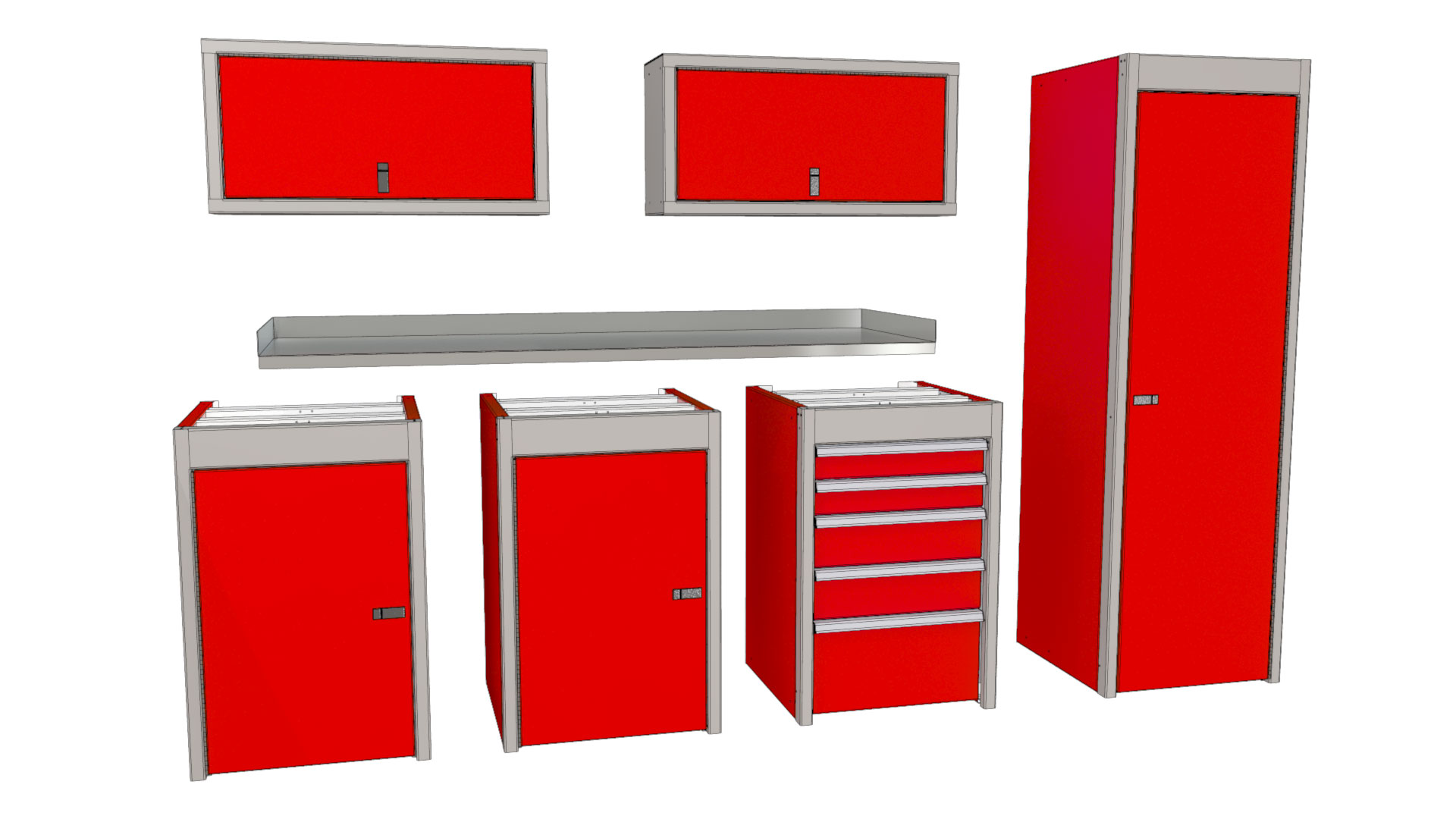 Standard Colors
Actual Colors May Vary From Website
SportsmanII Base Cabinets
SportsmanII Wall Cabinets
Optional Accessories
LED Lighting

LED lights are efficient and economical.
LED lights stay cool to the touch.
Easy to install beneath overhead cabinets.
Made by International Light Technologies.
Light Shields

Conceals under-cabinet LED lighting.
Directs task lighting at the work surface
Power Grid™

Convenient electrical, air and USB access.
Plugs and air fittings are always in reach but never in the way.
Brushed stainless steel finish looks great with any countertop.
Easy to install and make external connections.
Workbench Mat

Protect your countertop, tools and parts.
Shock absorbent.
Resists oil, grease and many common chemicals.
Diamond tread pattern prevents slippage.
Extreme Drawer Liner™

Solid, non-slip, PVC-coated polyester. Not mesh.
Prevents tools from sliding around in drawers.
Cushion fragile items.
Works with all drawers and shelves.
Aluminum Drawer Dividers

Organize tools, parts and hardware.
6 separators per drawer that can be rearranged for parts of any size.
Additional separators can be ordered for even more customization.
Available with all drawers.
Plastic Drawer Bins

Organize small parts and hardware.
Bins can be rearranged however you like.
Made of high impact polystyrene (HIPS).
Assortments are available for small, medium or large parts.
Extra Adjustable Shelves

Easy to install and adjust the height in 2-1/4" increments.
CAD and CNC precision ensure that shelves fit perfectly.
Made from military-grade aluminum.
One adjustable shelf included with every base cabinet.
SportsmanII Series Pre-Configured Cabinet Combinations
Sportsman II™ Series is the Perfect Option for Trailer Use:
Looking for trailer storage cabinets that present a look of professionalism while also being highly functional and durable? Moduline Cabinets has the solution in its Sportsman II™ series. We craft our cabinets from military-grade aluminum that is both lightweight and durable at the same time. Moduline Cabinets commits to creating products of superior quality, and we make the process of ordering an easy one.
An Outstanding Range of Options
Moduline Cabinets offers customers outstanding pre-configured trailer cabinet combinations. You can select the configuration that best fits your needs. Want storage customized for you? Mix and match the components for custom trailer cabinets.
Cabinets That Are Ideal for Taking on the Road
We designed the Sportsman II™ series for our customers who need to take their cabinets on the road. Use trailer cabinets to organize tools, parts, and other items. Our patented QuickDraw® latch system comes standard in our toolboxes and is ideal to take on the road. Our cabinets stay closed during transport, which adds to safety for this type of use.
The Benefits of the Sportsman II Range
Moduline Cabinets helps you find cabinet solutions that work for your circumstances. Get a custom layout for trailer storage cabinets. Contact Moduline Cabinets today at (888) 343-4463 to get a free consultation.
ARE You Ready to Get Started?
We have a team of customer service experts ready to assist you today!