Social media and Moduline Cabinets
May 4, 2013
We live in a world where people get as much information from social media as they do from their local news broadcast or newspapers. From a marketing standpoint businesses must adapt to the change in order to reach their desired demographic. Moduline Cabinets embraces the growing social media trend by using multiple social media sites to communicate with customers and to show our product to potential customers.
You can find Moduline tweeting on Twitter, pinning on Pinterest, and posting pictures on Facebook. Search for our videos on YouTube, where you can see our cabinets, watch the Moduline racing team take a run down the drag strip and even view clips from television shows, such as Graveyard Carz and Two Guy's Garage. You can also find us on Google+ and Houzz, a place where homeowners and companies share products and ideas for the home. So next time you find yourself sitting at your computer, follow us on Twitter @ModulineCabinet and like us on Facebook, Moduline Cabinets, to hear the news and see what's happening with Moduline Cabinets.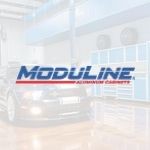 Moduline Cabinets
Moduline Cabinets provides military-grade aluminum cabinet solutions for car enthusiasts and professionals for over 30 years. Our designer appearance enhances garages and shops, and our cabinets stand up against the daily rigors of any environment.