Our mid-tier cabinet series with features for light-duty applications.
Select™ Series Applications
Select™ Series Key Features
QuikDraw® Latch System

Our patented latch system keeps drawers securely closed without the need for a key lock, yet amazingly simple to open with one finger anywhere along the handle. QuikDraw® is whisper quiet and engineered to allow for maximum drawer capacity.
Stainless Countertop

Select series cabinets have a solid stainless steel top that can be seamless up to 8 feet with integrated backsplash and bump-out front.
Double-Wall Door Construction

All cabinets have ridged double-sided doors that have an enclosed backside unlike flimsy steel cabinet doors. There is no shake or rattle and will stay closed with our strong magnetic closure.
Lift-Up Doors

The gas spring stay allows the door to stay up and out of the way making the cabinet safer than free-swinging doors. A great hands free option that also sweeps a smaller area when opening.
Easy-Level Toe Kick

A full base created to allow for leveling on uneven floors while sealing off the floor underneath eliminating the need to sweep under the cabinets. Recessed in the front similar to a kitchen cabinet allows you stand comfortably at the work surface.
Lifetime Warranty

Cabinets are warrantied to the original owner against defects in manufacturing, materials and workmanship for the lifetime of the product. Click here for further details.
Standard Colors
Actual Colors May Vary From Website
Select™ Built-In Toolboxes
QuikDraw® Latch System
Toe Kick Riser™
Select™ Rolling Toolboxes
QuikDraw® Latch System
3" Casters with Lock
Light Shields
Lift-up Doors with Gas Spring
Soft-Close Hinge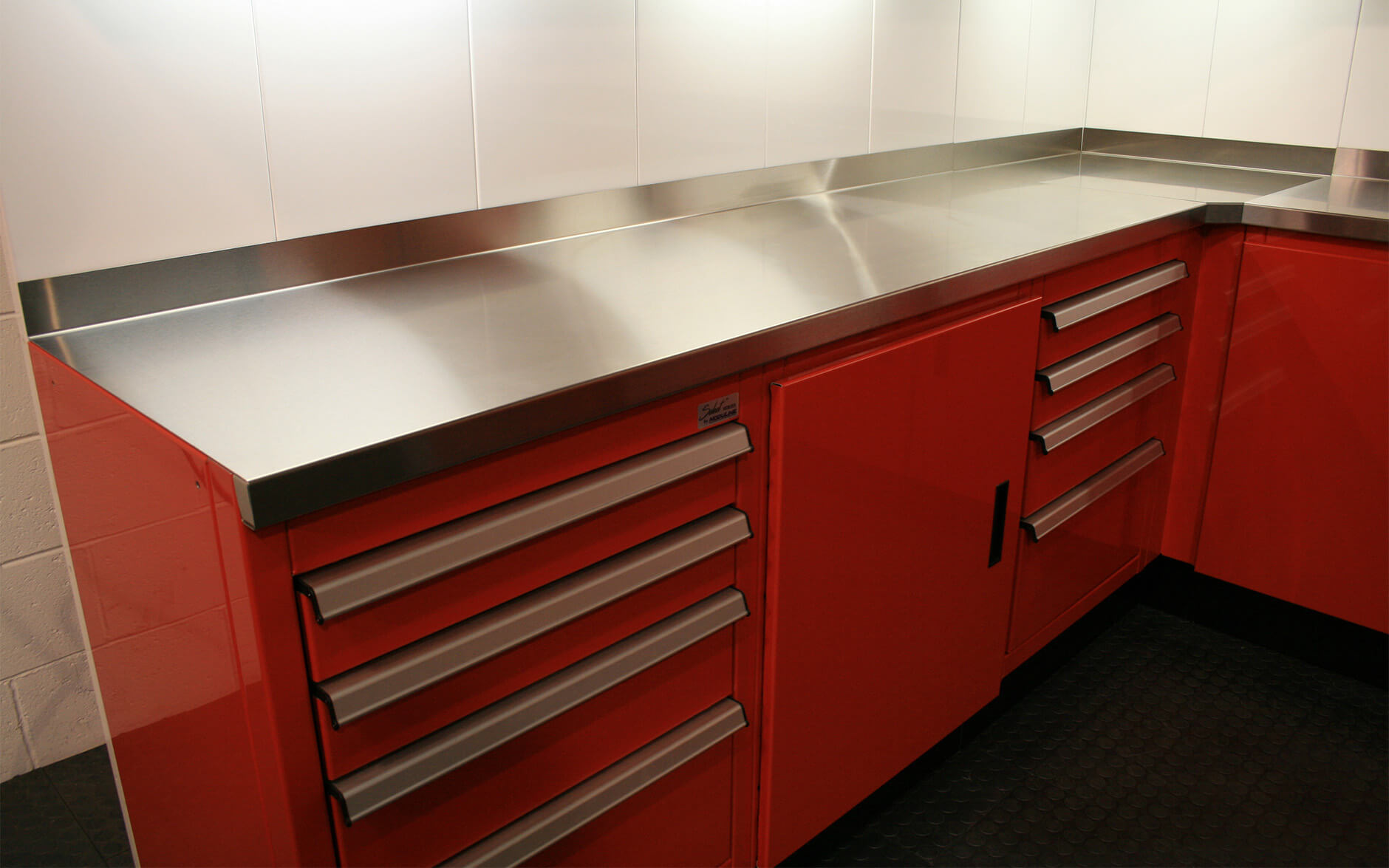 #4 Polished Stainless Steel
Integral Backsplash
Seamless up to 8 feet long.
Quick-Setup Wall System
Installing cabinets isn't always straightforward. You have to deal with walls and floors that aren't perfectly level, obstructions, stem walls, locating studs, etc.
Instant Walls solves those problems.
Strong, modular wall panels
Easy to assemble with common tools
Completely free-standing
Gloss White Finish
Optional Accessories
LED Lighting

LED lights are efficient and economical.
LED lights stay cool to the touch.
Easy to install beneath overhead cabinets.
Made by International Light Technologies.
Power Grid™

Convenient electrical, air and USB access.
Plugs and air fittings are always in reach but never in the way.
Brushed stainless steel finish looks great with any countertop.
Easy to install and make external connections.
Workbench Mat

Protect your countertop, tools and parts.
Shock absorbent.
Resists oil, grease and many common chemicals.
Diamond tread pattern prevents slippage.
Extreme Drawer Liner™

Solid, non-slip, PVC-coated polyester. Not mesh.
Prevents tools from sliding around in drawers.
Cushion fragile items.
Works with all drawers and shelves.
Aluminum Drawer Dividers

Organize tools, parts and hardware.
6 separators per drawer that can be rearranged for parts of any size.
Additional separators can be ordered for even more customization.
Available with all drawers.
Plastic Drawer Bins

Organize small parts and hardware.
Bins can be rearranged however you like.
Made of high impact polystyrene (HIPS).
Assortments are available for small, medium or large parts.
Extra Adjustable Shelves

Easy to install and adjust the height in 2-1/4" increments.
CAD and CNC precision ensure that shelves fit perfectly.
Made from military-grade aluminum.
One adjustable shelf included with every base cabinet and closet.
Perfect for Home Garages and Light Duty Use
In our Select™ Series of high-alloy aluminum cabinets, we take popular features from our PRO II™ Series and package them into an affordable cabinet system. The Select™ Series offers layouts to use in the home, garage, or shop with features like our patented QuikDraw® latch system, easy-level toe kick, double-wall door construction, and sleek color-matched frame design.
The Select™ Series Provides Options for Your Space
The Select™ Series of cabinets offer pre-configured combinations designed to fit in a variety of space sizes. Each combination is configured with you in mind to organize your space. Our combinations provide workspaces for any home, garage, or shop. We also offer A La Carte cabinet selections to build a combination for any room.
Quality You Can Count On
Moduline focuses on high quality using high-alloy aluminum and expert craftsmanship for cabinets that last a lifetime. We stand behind our promise of high quality in our Select™ Series line of cabinets with a Lifetime Guarantee. If you need dependable cabinets to organize your home, garage, shop, or other spaces, the Select™ Series is efficient and affordable.
Contact Moduline Cabinets to speak with one of our friendly cabinet experts for more information at (888) 343-4463.
ARE You Ready to Get Started?
We have a team of customer service experts ready to assist you today!