Professional Quality Cabinets
May 18, 2013
Automotive professionals not only want to please their customers with great work, they want the work place to be spectacular as well. When a customer walks in to have their vehicle serviced, wouldn't it be great to have a nice clean and organized shop filled with some of the best looking and most functional tool and storage cabinets. A clean, organized and functional shop shows customers they are in a shop that does quality work. Let's face it, if they perceive your shop to be high end, they'll perceive the same about the work you do.
Moduline cabinets are highly durable aluminum cabinets that have a distinctive design that not only looks great but offers superior functionality. These aren't your ordinary overseas built cabinets out of a big box store. Moduline aluminum cabinets are designed and manufactured here in the USA and delivered fully assembled.
Whether you work in a new car dealership or the trusted shop around the corner, Moduline will help you stand out and say to your customers that you are a quality shop. Options include many styles of drawer units for tools and parts, base cabinets that can store larger items and even closets that can hold uniforms or built in hose and light reels. Whatever your professional storage cabinet needs might be, Moduline has the professional solution for you.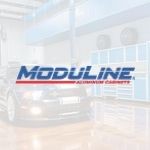 Moduline Cabinets
Moduline Cabinets provides military-grade aluminum cabinet solutions for car enthusiasts and professionals for over 30 years. Our designer appearance enhances garages and shops, and our cabinets stand up against the daily rigors of any environment.