Professional Garage Storage Cabinets
April 26, 2014
Think about the last time you took your vehicle in for service. Did you ever look into the actual shop area where the mechanics work their magic? Have you ever noticed the tool boxes and storage cabinets many of them have? Those rugged, industrial looking boxes would be great in your own garage but they're not cheap and you may want something that has a bit more style to them.
Moduline cabinets may be just what you have been looking for. Moduline cabinets and tool chests are professional grade, Period! They are rugged and they too are used in automotive shops and dealerships internationally. However, the most noticeable thing that makes Moduline cabinets different is their appearance. Moduline cabinets really are good looking. They don't have that same old clunky, industrial tool box look. Moduline delivers a product that not only is durable enough to warrant their lifetime warranty, but a product that visually makes people take notice. These are the kind of cabinets you see in your mechanics work shop that you would really be proud to have in your home.
A Moduline cabinet system can actually increase the value of your home while delivering uncompromising style and value. And while Moduline ranks as a top of the line premium cabinet system, you can still get almost an entire wall full of cabinets for about the same cost as just one of those big tool boxes from the guy in the truck.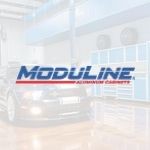 Moduline Cabinets
Moduline Cabinets provides military-grade aluminum cabinet solutions for car enthusiasts and professionals for over 30 years. Our designer appearance enhances garages and shops, and our cabinets stand up against the daily rigors of any environment.