PRI Show 2013
December 21, 2013
We wanted to take a moment and thank you all for a great PRI show last week in Indianapolis. Albeit cold, we had the opportunity to see many old friends as well as make plenty of new ones. The response to our QuikDraw® Single Action Latch System was fantastic and although this is especially exciting for those in the trailer and vehicle segment, those in the garage/shop market seemed just as excited for the added bonus. As always, people loved the look of the cabinets and were amazed at the quality now that they were able to touch and feel the products as opposed to just seeing them in pictures. It's because of the looks and quality Moduline is known for around the world that we are already getting calls from PRI attendees that have measured up their space and are ready to Organize With Style!
Power Auto Media did a video on us and posted to their on-line magazines. WOW, a huge response and a ton of Facebook "likes" as a result. Keep them coming!
Now that we're home and things are getting back to normal, make sure you give a call with any questions you may have or if you need any assistance with putting together a shop, garage or trailer layout. Our cabinet experts are eager to help you. Call us at 888-343-4463 or visit ModulineCabinets.com. So, again we thank you for stopping by the booth and making PRI 2013 a success for us. We also want to wish you and yours a very happy holiday season and look forward to seeing you all again!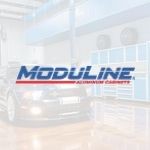 Moduline Cabinets
Moduline Cabinets provides military-grade aluminum cabinet solutions for car enthusiasts and professionals for over 30 years. Our designer appearance enhances garages and shops, and our cabinets stand up against the daily rigors of any environment.