Prestigious Auto Detail Shop Pays Attention to the Details in Their Shop
December 8, 2011
Auto detailing shop, Unlimited Auto Sport, in Oyster Bay, NY pays close attention to detail in everything they do. They have to. It's their business. This doesn't just mean detailing all the fine automobiles that roll through their shop; it also means the shop itself. When a customer pulls up in a Ferrari, Lamborghini or Bentley, that customer expects the shop to be as pristine as their automobile. First impressions count and how the shop appears will speak volumes about the quality of work performed there. From the shine on the floor to the lack of clutter on the benches to the quality and appearance of the storage and tool cabinets they use, it all makes a difference. To help with their organization and overall shop appearance, Unlimited Auto Sport chose Moduline Aluminum Cabinets. The clean, high fashion design along with the durability a working shop needs, made Moduline cabinets the perfect choice. They wanted a look that complimented their high end business as well as would stand up to the high demands of daily shop use. The anodized aluminum looks great and is easy to clean. The aluminum construction resists mold, mildew and corrosion keeping them looking and performing at the highest level for years and years to come. The extra ridged frames along with reinforced corners and double wall door construction also help to ensure their durability. The appearance speaks for itself. Just one look is all you need to realize these cabinets are truly one of a kind. Moduline customers continually write saying that they have become the envy of the neighborhood after installing them. At trade shows, countless people comment on how beautiful the cabinets are and say they are nice enough to put in their kitchens (yes, some actually have). Stock colors include red, white, blue, light grey and the ever popular black finish. They are all baked enamel for a superior and durable finish. There are also many options available including pull-out or fixed shelves, parts bins, drawer dividers, our Moduline Extreme Liner™ for lining drawers or shelves and countertops in aluminum, stainless steel or butcher block to name a few. One of the first cabinet systems to be truly modular, the ProIITM series comes completely assembled with precision, pre-punched holes for easy installation and offers almost unlimited combinations with the standard sizes available. From closets to workbenches, from wall cabinets to rolling tool carts, Moduline has what you need to transform your garage or shop into something others will be envious of. When you want the best in detailing and performance for you automobile, choose a shop that shows they care about quality, details and organization like Unlimited Auto Sport does. When you want the best storage and organization cabinets, organize with style and choose Moduline Aluminum Cabinets.
Look back soon for more details and pictures of this Prestigious Auto Detail Shop.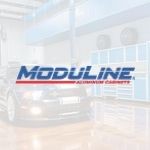 Moduline Cabinets
Moduline Cabinets provides military-grade aluminum cabinet solutions for car enthusiasts and professionals for over 30 years. Our designer appearance enhances garages and shops, and our cabinets stand up against the daily rigors of any environment.