PANTHER PARTNERS WITH MODULINE CABINETS ON MULTI-YEAR AGREEMENT
January 4, 2013
IndyCar Series Champions Reach Extended Contract Agreement with Custom Cabinet Company
INDIANAPOLIS, Ind. – (January 4, 2013) – Two-time IndyCar Series Champion Panther Racing announced today it has reached a multi-year technical partnership agreement with Moduline Cabinets, makers of specialized custom aluminum storage cabinets. Moduline will become the official tool storage supplier of Panther Racing and will create custom cabinets, tool chests and workbenches for the team's headquarters in Indianapolis and for its pit and garage areas during the IndyCar Series season.
"We're really excited about this partnership with Moduline," Panther CEO and Managing Partner John Barnes said. "In motorsports we thrive on efficiency and organization, and we've seen the way Moduline can customize its products to suit the needs of its clients. We knew right away that Moduline would be able to streamline our efforts and add a great deal of style to our race shop. This is a great partnership for all of us at Panther Racing and we're looking forward to having the Moduline team in here to start the installation process."
Moduline specializes in customized aluminum cabinetry for shops, showrooms, kitchens, garages, vehicles and trailers. The company is based in Massachusetts and its company branding will be displayed on Panther's No. 4 National Guard Chevrolet IndyCar this season, in addition to all of the team's uniform apparel worn by the crew and driver JR Hildebrand, the 2011 Indianapolis 500 Rookie of the Year.
"Moduline Cabinets is excited about becoming part of Panther Racing and their primary partner the National Guard," Moduline President Paul L. Gill said. "We know we can help the team with our cabinets and organization products and we're looking forward to working together."
Panther Racing kicks off the 2013 IndyCar Series season on March 24 with the Grand Prix of St. Petersburg in a season that will be highlighted by the 97th Running of the Indianapolis 500 Mile Race on May 26th. All IndyCar Series races are broadcast on either the NBC Sports Network or ABC.
About Moduline Cabinets:
Gill Metal Fab, Inc. the parent company and manufacturer of Moduline cabinets was created in 1988 by Paul Gill. Over the years of producing metal components and parts, the company gained a reputation of high quality items and productivity and soon grew to be a very successful business. This success and participation in the racing industry led to the development of our product Moduline cabinets and accessories which are designed with the same standards. Our Moduline products are modular, lightweight, durable and easy to install. Initially, Moduline was produced mostly for trailers and soon models were designed for shops, military vehicles and other specialty areas. The high quality and design make them the cabinet to own when organization is important. "A place for everything" is achieved with our cabinets. They are available in several colors and combinations making them an absolute necessity for all of your organizing needs.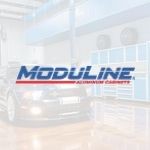 Moduline Cabinets
Moduline Cabinets provides military-grade aluminum cabinet solutions for car enthusiasts and professionals for over 30 years. Our designer appearance enhances garages and shops, and our cabinets stand up against the daily rigors of any environment.