Our Enclosed Trailer Cabinets Are Built to Handle the Road
June 23, 2012
Whether your trailer is for racing or construction, you and your equipment trailer spend a lot of time on the road running from one track or job site to the next. The one thing you cannot afford is to buy a set of enclosed trailer cabinets that are not going to stand up to the bouncing and jostling of mile after mile of bumpy roads. The average bargain trailer cabinet is not likely to stand up to this kind of abuse.
We build our enclosed trailer cabinets from the same premium quality aluminum that is used to make our garage cabinets to provide you with cabinets that can take the abuse. Extra strong integrated frames with double reinforced corners are one of the keys to our highly durable cabinet design. We also use double wall construction for the doors and precision manufactured hardware throughout to provide you with cabinets that are going to give you a lifetime of flawless service. Moduline aluminum trailer cabinets are also lightweight to help lower the GVW of any trailer or vehicle and improve the gas mileage. We offer both Sportsman and Pro Series cabinets for trailers. Call today to discuss which model is the best fit for your enclosed trailer.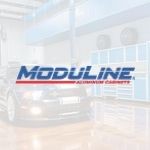 Moduline Cabinets
Moduline Cabinets provides military-grade aluminum cabinet solutions for car enthusiasts and professionals for over 30 years. Our designer appearance enhances garages and shops, and our cabinets stand up against the daily rigors of any environment.