3 Options to Make Your Garage a Workable Shop
November 11, 2019
Designing your garage into a shop is a great idea! But what storage options are available to add to your space? Over the 30+ years we've helped customers with garage storage solutions, we've created two lines of military-grade aluminum cabinets to help you. Design the workshop or garage of your dreams with these!
1. Custom Built Cabinet Sinks
Customers asked us about garage cabinets with sink and we answered them with a gorgeous design. All our employees need to know are the dimensions and placement area for the sink on the countertop. We do all the custom work for you. We can also supply you with top-quality stainless-steel sinks to perfectly fit your military-grade aluminum storage cabinet.
Your new sink cabinet will be shipped to your location. We can even manufacture your cabinet and let you order your own sink to install into the pre-cut opening.
2. Workshop Space Is No Problem
Thinking about a workbench to go inside your new shop? We have the answer for you. Extra room to move around is always important if you're limited on space. Our folding workstation is the perfect solution for that problem.
We offer our popular 44-inch wide model and 24-inch version for smaller areas. Features you will be happy with are the bench top lock securely in place to prevent accidents. You can store tools with other items you need in a hurry in shelves located on the bench.
3. A Roomy Work Area
Space organization is important for a workshop or garage. Our metal storage cabinets for garage or workshop will allow you more freedom of movement. Closet cabinets are a fantastic alternative for outdoor tool storage or garage items.
When you choose Moduline Cabinets to assist your project, you have a company you can trust. Our commitment to you is all our customers are 100% satisfied. We guarantee you will be too. Give us a call today at 1-888-343-4463 to discuss what type of project and design you're seeking for that new workshop.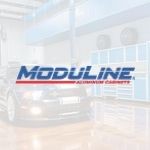 Moduline Cabinets
Moduline Cabinets provides military-grade aluminum cabinet solutions for car enthusiasts and professionals for over 30 years. Our designer appearance enhances garages and shops, and our cabinets stand up against the daily rigors of any environment.