Not Just Another Pretty Face
May 24, 2014
It's true. Moduline Aluminum Cabinets are, to go along with the above header, pretty. Most of our customers tell us they think we are absolutely the best looking cabinet system on the market. We think so too. But don't let the good looks fool you. Moduline Cabinets have serious substance to them. Tested and trusted for over 25 years by professional race teams, fortune 500 companies, the military and more, Moduline cabinets are extremely durable and functional. The good looks are just a big bonus!
Our cabinets align with the values of our customers: Professional Grade; Designer Appearance; Delivered as Promised. The high-gloss finish along with integrated sealed and anodized frames gives Moduline Cabinets their unique streamlined aesthetics which is sure to compliment any space. The precision manufacturing, high quality materials and innovative features all contribute to one of the finest, most durable aluminum cabinet systems anywhere. And let's not forget service. From same day quoting to professional CAD drawings of the proposed layout to folks willing and able to help get you organized in style, Moduline's service is second to none. Maximize and transform your garage, shop or trailer into a stylish and functional workspace today. Contact us to today and learn how to get started.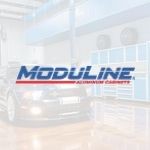 Moduline Cabinets
Moduline Cabinets provides military-grade aluminum cabinet solutions for car enthusiasts and professionals for over 30 years. Our designer appearance enhances garages and shops, and our cabinets stand up against the daily rigors of any environment.