Motocross Legend Chooses Moduline
November 2, 2011
Legendary motorsports champion and soon to be NASCAR driver, Travis Pastrana chooses Moduline Aluminum cabinets to help keep him organized – again. First time around was for his race trailer, which is transported on tour carrying his bikes and tools. Now it gets personal. Travis likes Moduline cabinets so much that he has chosen them once again, this time for his home. We'd like to thank Travis for his continued patronage and support and as always, wish him the best of luck. Paul Gill, owner and creator of Moduline cabinets has been called the "cabinet maker to the stars" because more and more, Moduline cabinets are showing up at the tracks, shops and homes of celebrities and sports personnel all over the world. The funny thing is, it isn't because Moduline sponsors them or gives them away for marketing benefits, because they don't. It's because Moduline is recognized as the leader in quality aluminum cabinet systems designed for functionality, versatility and aesthetics. There isn't a better modular aluminum cabinet system on the market that is as strong, easy to install or as good looking as Moduline.
If you would like to get organized with style, choose the cabinets chosen by professionals the world over, call us toll free at 888-343-4463.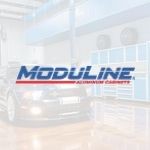 Moduline Cabinets
Moduline Cabinets provides military-grade aluminum cabinet solutions for car enthusiasts and professionals for over 30 years. Our designer appearance enhances garages and shops, and our cabinets stand up against the daily rigors of any environment.