Moduline sets up Panther Racing
April 20, 2013
The season has begun and Moduline is in full swing helping Panther Racing with their storage and tool box needs. Getting the headquarters shop set as well as the Indy 500 shop completed, both Moduline and Panther are busy.
By designing custom carts and storage cabinets along with our standard products, Moduline is tasked to make the shops some of the best looking and highly functional shops on the circuit. The carts will be used for many different purposes including storage of smaller specialized tooling and other parts for the Indy Car. They were also designed to be picked up with a fork lift and transported from race to race throughout the season. A cool feature of this cart being shown is the removable end cabinet that gets removed and transported to pit lane. It can then easily reattach to the cart and be used in the garage. Keep an eye out for more pictures including some that will have graphic wraps.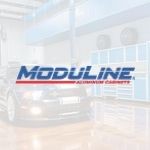 Moduline Cabinets
Moduline Cabinets provides military-grade aluminum cabinet solutions for car enthusiasts and professionals for over 30 years. Our designer appearance enhances garages and shops, and our cabinets stand up against the daily rigors of any environment.