Moduline Modular Aluminum Cabinets Selected by Two Wheel Thunder for Their New TV Studio
April 17, 2010
We at Moduline Modular Aluminum Cabinets are delighted that our modular shop cabinets, countertops and tool chests were selected to outfit the new Two Wheel Thunder TV Studio. Michele Smith and Jay Barbieri will be hosting the brand new motorcycle magazine show "Two Wheel Thunder". Smith and Barbieri previously hosted American Thunder on the Speed Channel but after fourteen years and high ratings, they are moving to Discovery's HD Theater. Knowing that the selection of the shop cabinets were critical to set design, Moduline was chosen to supply their cabinets over all other suppliers. In conjunction with the show's producers and set designers, our engineers selected just the right cabinets and tool chests… finished in our standard red gloss baked enamel.
Moduline Cabinet's TV credits include This Old House, 2 Guys Garage and American Builder. Now we can add Two Wheel Thunder! Displaying the "Made in the USA" label, Moduline cabinets can be found in trailers, automotive shops, motor homes, residential garages and homes across the Unites States, Canada and in other countries.
Michele Smith has been riding motorcycles since 1994 and is considered the "First Lady of Motorcycling" by millions of enthusiasts. Jay Barbieri has been riding a Harley for over 25 years, has hundreds of thousand miles under his belt and has attended countless motorcycle rallies across North America. His book the "Bikers Handbook, Becoming Part of the Motorcycle culture" is in its third printing. See Moduline on Discovery's HD Theater's Two Wheel Thunder Starting on June 7th 2010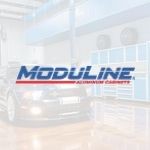 Moduline Cabinets
Moduline Cabinets provides military-grade aluminum cabinet solutions for car enthusiasts and professionals for over 30 years. Our designer appearance enhances garages and shops, and our cabinets stand up against the daily rigors of any environment.