Moduline Introduces Revolutionary QuikDraw® Single Action Latch System
June 25, 2013
Brockton, MA – Moduline Cabinets, the manufacturer of premium grade aluminum cabinets announces today the introduction of their new QuikDraw® single action latch system. QuikDraw® is now available on all of Moduline's new drawer cabinets and tool chests. This latch system offers an independent dual latch mechanism which allows each end of the handle to latch automatically and prevent inadvertent opening of drawers, even in transit. The effortless operation is smooth, quiet and secure while the design is such that it does not sacrifice any capacity. With just one finger, opening and closing the drawers is now faster and easier than ever. When you push the drawer shut by the handle, the mechanisms pivot independently and there is no concurrent upwards movement by the handle. "This is one of the best automatic latching handle systems I have ever used" says Roy Ewell a race car builder and mechanic in Holbrook, MA.
Paul Gill, president of Moduline explains:
"We've been working on this new latching system for quite a long time now. With all the prototyping and testing, we really wanted to make sure it would stand up to heaviest usage and be worthy of the Moduline name before we made it available. What makes QuikDraw® so efficient is having the dual, independent latch mechanisms on both ends of the handle without sacrificing any drawer space. To address safety, each latch works independently to ensure the most secure drawer closure: ideal for a mobile application as well as a stationary environment."
About Moduline Cabinets
Moduline cabinets is the manufacturer of the ProIITM line of premium grade aluminum storage and tool cabinets used in a wide range of industries including auto racing, marine, military applications, commercial and residential. Since 1995, Moduline has realized substantial growth and recognition as an industry leader cabinet in manufacturing.
The concept was born out of a need for high quality, durable and lightweight aluminum cabinets for our own race trailer. At the track, people took notice of the modern design and how well engineered the cabinets were. Soon, requests came in from teams all over the country asking for cabinet set-ups for their own trailers and thus, Moduline was born. Not long thereafter the idea and requests started coming in for Moduline to create cabinet systems for the garages and shops of these race teams. The word quickly spread.
Today, Moduline Aluminum Cabinets are one of the most sought-after, high-end cabinet systems used all over the world not only by professional race teams but the military, automotive dealers, shops, yacht manufactures, homeowners and many more. Moduline manufactures high quality and stylish garage storage cabinets, trailer cabinets, accessories, aluminum and stainless steel countertops, shop cabinets, tool cabinets, military cabinets and industrial storage cabinets.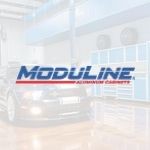 Moduline Cabinets
Moduline Cabinets provides military-grade aluminum cabinet solutions for car enthusiasts and professionals for over 30 years. Our designer appearance enhances garages and shops, and our cabinets stand up against the daily rigors of any environment.