Moduline Helps Drag Racing Legend Break 200MPH
January 25, 2014
On August 2, 1964 "Big Daddy" Don Garlits became the first to break the long-coveted 200 mph milestone in the quarter mile. In doing so, he cemented his place in racing history and in the NHRA record books.
Fast forward 50 years and he's at it again. This time, Moduline is proud to sponsor Don and the other co-owners of "Quest for 200 MPH on Batteries" dragster, Brad Hadman and Mike Gerry. Together, the team is pushing to break the hallowed 200 MPH barrier in the quarter mile… using renewable battery power! A feat which has never been done before. If accomplished, it will mark a triumph of both human spirit and technology.
The Quest dragster will be powered by a 1500 amp array of lithium polymer batteries that will be built by High Tech Systems LLC. The battery package will develop an equivalent horsepower rating of 2000HP! The Brad Hadman chassis is constructed similarly to a Top Fuel dragster and meets applicable professional drag racing safety criteria.
The car had its debut with full sheet metal and graphics in the Lincoln Electric display booth at the 2013 SEMA show in Las Vegas where it drew a lot of attention. Next, the dragster will travel to Florida for final assembly. We'll update you as this incredible team takes racing technology to its next level and breaks a barrier once thought to be impossible.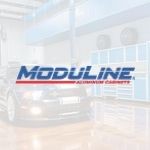 Moduline Cabinets
Moduline Cabinets provides military-grade aluminum cabinet solutions for car enthusiasts and professionals for over 30 years. Our designer appearance enhances garages and shops, and our cabinets stand up against the daily rigors of any environment.