Moduline goes to the Indy 500
June 1, 2013
The Indianapolis 500, also known as the Greatest Spectacle in Racing, features 33 of the most advanced cars in American racing competing at speeds exceeding 230mph. Calling this race demanding wouldn't even begin to describe the intensity of this race. Running 200 laps for a total distance of 500 miles, teams are required to prepare and scrutinize every aspect of their respective cars. The demand to have everything perfect is just one factor in finishing the race, never mind winning. For this reason, Panther Racing chose Moduline Cabinets to help organize their garage and work space at Indianapolis Motor Speedway.
Equipped with Moduline Cabinets, the Panther Racing Team was able to organize parts in a variety of drawer units, base units and overhead cabinets. We at Moduline utilized many of our different size and type offerings of cabinets to create five unique arrangements for the team, catering to all of their garage tasks. These cabinets helped the team keep large and small parts out of the way, allowing for constant and efficient progress. It was amazing to see the hard-working crew in action! Awed expressions from fans seeing the finely-tuned car and professional cabinets made the experience of being there even more satisfying. Overall, the 97th running of the Indy 500 was a great time for Moduline Cabinets and we look forward to seeing all the fans next year!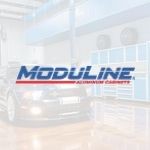 Moduline Cabinets
Moduline Cabinets provides military-grade aluminum cabinet solutions for car enthusiasts and professionals for over 30 years. Our designer appearance enhances garages and shops, and our cabinets stand up against the daily rigors of any environment.