Moduline Drawer add-on features
July 28, 2012
We have listened to our customers once again and developed the best available add-on features for our storage cabinet drawers. Start with Moduline Extreme Liner™. This non-slip PVC-coated polyester drawer liner is professional grade! The black solid material is easy to clean will not collect dirt and oil like many other liners. This is not the flimsy open mesh type that wears out. The ribs help this extreme drawer liner to hold tools in place and protect them from scratching and marring. Works well on any drawers and even shelves. Just trim to fit. To purchase Extreme Drawer Liner™, just visit our Online Store.
Then, to keep parts separated and organized, we added aluminum drawer dividers. Manufactured from premium aluminum to precisely fit Moduline tool cabinet drawers and base cabinet drawers. The removable separators adjust to any size parts and each set includes six adjustable separators. Additional separators are available and installation hardware is included.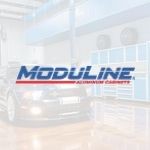 Moduline Cabinets
Moduline Cabinets provides military-grade aluminum cabinet solutions for car enthusiasts and professionals for over 30 years. Our designer appearance enhances garages and shops, and our cabinets stand up against the daily rigors of any environment.