Moduline Commercial Customers
September 14, 2013
Many, if not most of our blogs typically center around the residential market we serve and we feel we may not have paid enough attention to the thousands of commercial customers we have. Well, this week we wanted thank all our commercial customers.
You all really put Moduline cabinets to the ultimate test. Many residential customers purchase Moduline because they look so good with little regard to how well they actually perform. Our commercial customers really test our products in some extreme conditions, giving us the confidence to attach a lifetime warranty to all Moduline cabinets. Without truly testing Moduline cabinets in the field, in so many different environments and in so many situations, we wouldn't be able to offer such an outstanding warranty.
From military applications to oil rigs in the middle of the ocean, from auto dealerships to professional race teams, this is how Moduline products are tested. This is what proves day in and day out that Moduline cabinets are professional grade. Yes, the designer appearance looks great in any application but the durability is what makes us confident and proud.
So to all you commercial customers: Thank you. Thank you for spreading the good word about Moduline. Thank you for using Moduline cabinets every day and putting them to the test. Thank you for giving us the confidence to warranty them for life!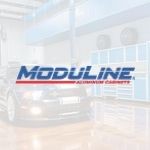 Moduline Cabinets
Moduline Cabinets provides military-grade aluminum cabinet solutions for car enthusiasts and professionals for over 30 years. Our designer appearance enhances garages and shops, and our cabinets stand up against the daily rigors of any environment.