Moduline Cabinets on Discovery HD Channel's Two Wheel Thunder Program
June 7, 2010
Moduline 100% aluminum cabinets are the cabinet of choice for the new Two Wheel Thunder show on Discovery HD channel starting Monday, June 7, 2010.
Moduline 100% aluminum modular garage cabinets were chosen by the Team from the new Discovery HD channel program, Two Wheel Thunder. The show, starring Michele Smith and Jay Barbieri, will premier on Monday, June 7, 2010 and focus on V-Twin motorcycles and products.
Moduline's design engineers collaborated with the show's producer and set designer to create a set of gloss red garage cabinets with stainless steel counter tops for the new production set. Visually impressive, the individual cabinets and tool chests were chosen to provide the optimal storage for not only their automotive tools but also some of the equipment needed to produce a high impact and successful show. Included in the design are two closets, a 7 drawer tool cabinet, base and overhead cabinets including a corner overhead unit to provide easy access storage space in the corner of the L-Shaped design. This is not the first TV appearance for Moduline products. Previously, they have been seen prominently in episodes of This Old House, 2 Guys Garage and American Builder.
Moduline produces upscale, fashionable shop and garage cabinets for all types of applications from professional shops to residential garages.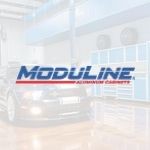 Moduline Cabinets
Moduline Cabinets provides military-grade aluminum cabinet solutions for car enthusiasts and professionals for over 30 years. Our designer appearance enhances garages and shops, and our cabinets stand up against the daily rigors of any environment.