Moduline Cabinets launches new website
December 29, 2014
It's been a long time coming but it's finally here. Moduline has a new website which is better than ever. The new site (which you're on now), is more in line with who Moduline is as a company. It's fresh with new content and design. It's easy to follow and gives people a better understanding of our products and how the modular system works. Of course aesthetically it's more relevant with today's styles and we blended that with our traditional branding. As before, we thought it important to have a section dedicated to our garage and shop customers as well as a section dedicated to our trailer and mobile customers. This is because there are differences in applications as well as features so we wanted to make sure you receive the most relevant information for your particular application. We also have an online store. Through the store you can purchase many of the accessories and smaller cabinets individually as well as the pre-configured cabinet combinations. Because of the complexity of our system having so many different options, features and sizes, it wasn't practical to offer everything online. Moduline is known for and prides ourselves on a high level of personal customer service and we want to make sure that when it comes to a cabinet system, you are getting exactly what you want and what you need.
We've worked hard to bring you this updated site and hope you enjoy it as much as we do. There will be updates from time to time so make sure and check back often. Also, feel free to email us at info@modulinecabinets.com with any feedback so that we may continue to improve the user experience with you in mind. Thanks for visiting.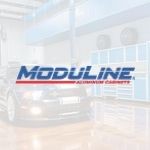 Moduline Cabinets
Moduline Cabinets provides military-grade aluminum cabinet solutions for car enthusiasts and professionals for over 30 years. Our designer appearance enhances garages and shops, and our cabinets stand up against the daily rigors of any environment.