Moduline Cabinets are "GREEN"
August 18, 2012
America's premiere aluminum cabinets are not only popular because they are such a beautiful addition to any shop, garage or facility but because they are also good for the environment. Architects are specifying Moduline more and more in private homes as well as schools and commercial applications because Moduline cabinets contribute to a LEEDS building certification.
Since Moduline cabinets are made completely out of aluminum, they are 100% recyclable. All of Moduline's manufacturing waste is also 100% recycled. Recycling scrap metal reduces greenhouse gas emissions and uses less energy than making metal from virgin ore. The amount of energy saved using various recycled metals compared to virgin ore is up to 92 percent for aluminum and 56 percent for steel.
Aluminum is lightweight which also helps keep shipping costs down. If you plan on using cabinets in a trailer or specialty vehicle, using aluminum cabinets will keep the gross vehicle weight (GVW) down and helps conserve fuel. Aluminum is also a better material choice for storage cabinets because of its long life, structural strength and corrosion resistance. So it's easy to see that you can contribute to the environment and have some of the best looking and performing storage and tool cabinets available. For more information, call 888-343-4463.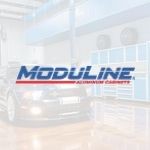 Moduline Cabinets
Moduline Cabinets provides military-grade aluminum cabinet solutions for car enthusiasts and professionals for over 30 years. Our designer appearance enhances garages and shops, and our cabinets stand up against the daily rigors of any environment.