Moduline Aluminum Cabinets at Barrett Jackson automobile auction in Scottsdale, Arizona
February 6, 2016
Moduline made its annual trek to the southwestern United States this past week to the satisfaction of several new and repeat customers who converge on the world-renowned Barrett Jackson automobile auction in Scottsdale, Arizona.
Popular among discerning buyers, investment-class Moduline Aluminum Cabinets are right at home alongside the record $100 million dollars worth of new, exotic, vintage and rare vehicles that crossed the nationally televised Barrett Jackson Scottsdale stage.
The investment and logistics to bring a "showroom" of Moduline products from our New England-based headquarters and manufacturing facility is important to Moduline founder and owner Paul Gill. "We have busy clients and potential customers who take advantage of the convenience to see and touch our products firsthand and talking to our friendly knowledgeable staff at Barrett Jackson."
Seeing is believing, and we hear so often from clients that our products look and feel better in person than they could imagine. For this reason we often help customers and start assisting with their cabinet design right on the spot.
Among our 2016 touring schedule, we will exhibit Moduline Aluminum Cabinets at the inaugural Barrett Jackson Northeast event at Mohegan Sun in Uncasville, Ct, the Progressive International Motorcycle Show in Long Beach and Phoenix, AZ, Monster Energy Super Cross events in Anaheim and San Diego, CA and the Fire Chiefs' of Massachusetts Development Conference.
Please put us on your list of things to see, if you're going to attend – you won't be disappointed.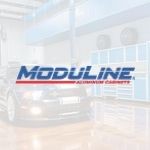 Moduline Cabinets
Moduline Cabinets provides military-grade aluminum cabinet solutions for car enthusiasts and professionals for over 30 years. Our designer appearance enhances garages and shops, and our cabinets stand up against the daily rigors of any environment.