Make Your Enclosed V-Nose Trailer Better with Cabinets
February 2, 2021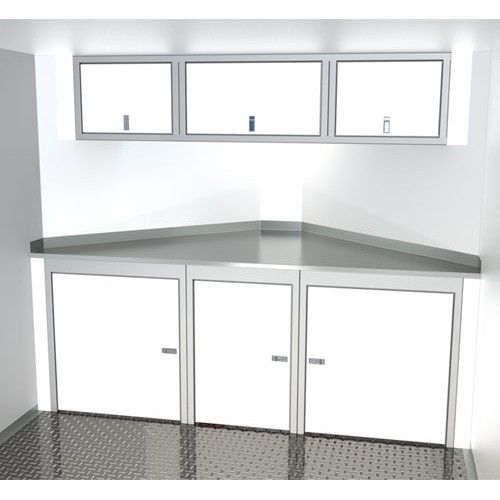 V-nose trailers are more aerodynamic, get better gas mileage and have less tendency to sway as much as flat-fronted trailers. So, how do you make use of that space in the nose and make the trailer more efficient?
That empty v-nose in an enclosed trailer is wasted space. The best use for v-nose space is to place cabinets in this area for storage and organization. Creating a functional workspace inside an enclosed trailer can be useful for many activities.
How to Create a Workspace in Your V-Nose Trailer
Trailer cabinets are the way-to-go, but first you want to keep the weight down! Aluminum has a higher strength to weight ratio than steel, but is also lightweight. Lightweight is exactly what you want in a trailer or other mobile application where any extra weight directly impacts your fuel economy, so aluminum cabinetry is the clear choice.
Organization and Efficiency To-Go
A v-nose trailer provides transport for your race car, motorbike, or other vehicles. It doubles as a workspace during races, and for construction and service industries. It is easy to transport from one place to another for mobile services. With Moduline trailer cabinets, you can organize the inside of the trailer into efficient work space. Keep your work tools, supplies, electrical cords, and equipment organized and easy to find when you need them for work or hobbies.
Moduline SportsmanII™ Series V-nose Trailer Cabinet Combinations
Our SportsmanII™ Series cabinet combinations fit in any space, including specially designed cabinets to fit inside the V-nose area of an enclosed trailer. We precision craft our cabinets from lightweight military-grade aluminum so they help save on fuel and do not add weight to the trailer.
Wall Cabinets – Our wall cabinets add extra storage room to your enclosed trailer. Wall cabinets help add space along the walls without taking up floor space. Our cabinets have trigger latches that stay closed while in transport to ensure the safety of your equipment, tools, parts, and accessories.
Base Cabinets – Our base cabinets also provide a useful area to add a countertop to create a workspace. They hold larger car parts, items, and tools during transit.
Toolboxes – Toolboxes organize and protect tools and smaller parts. All Moduline drawers are equipped with our patented QuikDraw® single-action latch system to keep drawers securely closed even during transport.
Countertops – Our solid, military-grade aluminum countertops are easily installed on top of base cabinets and toolboxes to provide a comfortable workbench.
Moduline also offers other cabinets and accessories to increase efficiency and help you organize your enclosed trailer. Other accessories we offer include aluminum folding workstations, drawer liners, workbench mats, LED lights for overhead cabinets and more.
Checkout our SportsmanII™ Series V-nose trailer cabinets to fit your work, race, or hobby trailer. Or call us at 1-888-343-4463 to discuss the dimensions of your trailer and we can help you get started.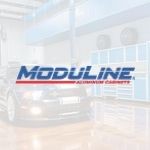 Moduline Cabinets
Moduline Cabinets provides military-grade aluminum cabinet solutions for car enthusiasts and professionals for over 30 years. Our designer appearance enhances garages and shops, and our cabinets stand up against the daily rigors of any environment.