Make Life Easier with Garage Storage Cabinets
March 30, 2013
When you walk into your kitchen, one of the first things you see is your kitchen cabinets. They provide you with a place to store your food, dishes, pots, pans, and other kitchen items. Without kitchen cabinets, your kitchen would not be nearly as useful. If cabinets can make life easier in your kitchen, imagine what they could do in your garage. Chances are that your garage did not come equipped with storage cabinets. You may have installed a few shelves here and there, but you are not utilizing the full storage potential of your garage.
Fortunately, Moduline Cabinets is here to help. We carry a huge selection of aluminum garage storage cabinets designed to make life in your garage a little bit easier. With the easy installation of our fully assembled cabinets, you can have all of the storage space you will ever need. Imagine being able to store your parts, tools and equipment out of sight and in a specific (and attractive) place. You will always know where your possessions are, when you need them. The options are limitless with the right cabinets. Contact us today to find out how you can place your first order and organize your garage with style.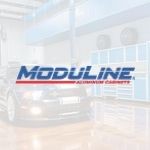 Moduline Cabinets
Moduline Cabinets provides military-grade aluminum cabinet solutions for car enthusiasts and professionals for over 30 years. Our designer appearance enhances garages and shops, and our cabinets stand up against the daily rigors of any environment.