Keep your Children safe with Garage Storage Cabinets
August 11, 2012
Every home or garage has some type of liquid or tools that you do not want around your children. With locking garage storage cabinets you can securely store these items away from little hands. Moduline tool chests and all drawer cabinets are available with a thumb lock and positive drawer latch mechanism to keep all drawers locked closed with one key. All base cabinets, wall cabinets and closets are available with locking latches to protect children from accessing cleaners, solvents, tools, etc. They also come with a double lock option, for extra security. They are even useful for storing valuable items that you do not want out in the open.
Where can I install Garage Storage Cabinets?
Storage cabinets can be installed anywhere there are studs for anchoring or concrete walls in the garage or inside of your home. If you have a concrete or cinder block wall, then you will need to use concrete anchor bolts for support and your cabinets will be more secure than if they were screwed directly into a pair of two by sixes. Many people even mount these cabinets in the laundry room or basement, providing added storage without compromising your floor space.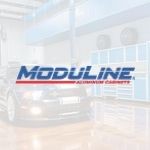 Moduline Cabinets
Moduline Cabinets provides military-grade aluminum cabinet solutions for car enthusiasts and professionals for over 30 years. Our designer appearance enhances garages and shops, and our cabinets stand up against the daily rigors of any environment.