Keep It Functional with Free Accessories
March 2, 2013
When you spend a lot of time in a trailer, service vehicle or even a garage, you know how important it is to have a fully functional workspace. Fully functional means more than just a place to store your tools and equipment. Fully functional means a place to work, make needed repairs, wash your hands, and even fill out paperwork, if necessary. Creating this kind of a workspace inside may seem like an impossible task – but nothing is impossible when you partner with Moduline Cabinets.
We are the experts in storage cabinets and accessories for all types of workspaces. Moduline has everything you need to keep your workspace fully functional. We got our start manufacturing cabinets for racing trailers, so we know exactly what you need to outfit your workspace. Contact us today to learn more about our top quality cabinets and accessories.
For a limited time, now when you order cabinets from Moduline, receive 10% of the purchase price worth of FREE accessories. For example, purchase $3,000.00 in cabinets and get $300.00 worth of accessory items like our famous Folding Workstation, Moduline Extreme Liner™ drawer liners, bench top mats and much more. Call today,
Toll free: 888-343-4463.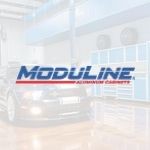 Moduline Cabinets
Moduline Cabinets provides military-grade aluminum cabinet solutions for car enthusiasts and professionals for over 30 years. Our designer appearance enhances garages and shops, and our cabinets stand up against the daily rigors of any environment.