Introducing the Moduline QuikDraw® Single Action Latch System
June 25, 2013
Moduline Aluminum Cabinets is proud to introduce our new patent-pending latch technology; QuikDraw® Single Action Latch System. It's the latch system that is so easy to use you can open with one finger, even when your hands are full. When closed, the drawers stay securely latched with no worry of them coming open accidently, even when they are used in mobile applications.
This QuikDraw® latch has a host of key features such as the dual, independent latch mechanisms on both ends of the anodized handle. This feature is unique because it doesn't take up valuable drawer space and instead, leaves all that extra capacity for your tools, parts and equipment. The high impact construction gives you piece of mind knowing it is built to last. With just one push or pull, you will really feel how high quality this latch system is and just how smooth and effortlessly it operates.
When it comes to safety, innovation and ease of use, the Moduline QuikDraw® Single Action Latch System can't be beat and is offered exclusively on all Moduline Drawer Cabinets.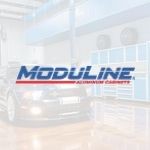 Moduline Cabinets
Moduline Cabinets provides military-grade aluminum cabinet solutions for car enthusiasts and professionals for over 30 years. Our designer appearance enhances garages and shops, and our cabinets stand up against the daily rigors of any environment.