How to Select the Right Cabinets for your Garage Makeover Project
November 26, 2012
Selecting the right type of garage cabinet is critical to a successful garage makeover. Your old kitchen cabinets are not designed to withstand the rigors of life in a garage. Storing heavy items are not kind to thin plywood or MDF shelves and can cause them to sag over time. Moisture or water on the floor will ruin exposed wood, MDF or particle board that comes into contact with it. Exposed steel cabinets can start to show rust and corrosion over time. If the garage is in a high humidity environment, you like to hose down your garage floor with cleaners and water or in a colder climate where winter snow (mixed with road salt) gets deposited, all will slowly affect cabinets made of natural materials. Even with coated steel, if you happen to slide them across a concrete floor, the coating will be scratched off and corrosion can start. I know as I have coated steel shelves in my garage and the bottoms of the legs are all showing rust. And with counter tops, plastic laminate over particle board is not very resistant to typical solvents, oils and greases when doing automotive work.
If you don't have these moisture or solvent problems, then installing a good quality set of plastic coated MDF garage cabinets may meet your needs. They are usually shipped knocked down and are assembled on site. Most use cam locks for the panels and European style door hinges which require alignment when installed (periodically throughout the life of the cabinets).
If you do have challenging conditions, then you should consider selecting 100% aluminum garage cabinets. They are considered the "Cadillac" of garage cabinets and the advantages well outweigh the cost. Made of aluminum, they will not rust or corrode, are highly resistant to mold and mildew and are factory assembled ready for installation with just a few hand tools. In addition, they have a very fashionable modern look pleasing to everyone and impressive to the neighbors. They are usually finished in high fashion gloss colors that help create a unique décor. Being modular, they come in standard dimensions and can be mixed together to create a total work and storage environment for the entire family. Another advantage is that you can start with a few and add to them as your needs change. You should look for aluminum cabinets that have a full anodized face frame. This finish is very robust, has the appearance of brushed stainless steel and will not show wear marks like a powder coated frame does. Selecting a full frame cabinet provides very rigid construction and is not dependent upon the sides or back for support. It also allows the base cabinets to be installed with a pass through between them to store items wider than the cabinets.
The work surface is very important as it will absorb the most wear of any part of your cabinets. Aluminum countertops are cost effective, resistant to most fluids, are formed with an integrated back and side splashes and will look good for years to come. An upgrade option would be to have a stainless steel countertop that is even more resistant to fluids and abrasion. A recent trend is to use 1 ¾" thick maple butcher block. Finished properly at the factory, they will give years of service, are very resistant to fluids (including nail polish remover) and strikingly beautiful. And if the surface starts to show wear, a light sanding and reapplication of sealer and it will look good as new.
Cabinet styles available include 2 door base cabinets with shelves or drawers, overhead cabinets with shelves and closets with shelves and pole kits to hang your work clothes. The base cabinets can even be configured with a sink to provide a cleanup area in the garage. With the garage also becoming an entertainment area, be sure to have a space reserved for hanging a flat screen TV.
Be sure to select a manufacturer that provides a toe kick space under the base cabinets for ease of working on the workbench. The toe kick can be supplied similar to kitchen cabinets. Having an open bottom allows dirt and dust to collect as well as an area for that dropped screw to roll under. With a solid toe kick, you never have to worry about cleaning under the cabinets and there is nowhere for that errant screw to hide under your cabinets. Solid toe kicks provide full perimeter support for the base cabinet as well as providing an easy and permanent way to level the cabinets.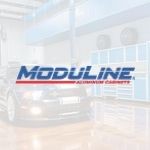 Moduline Cabinets
Moduline Cabinets provides military-grade aluminum cabinet solutions for car enthusiasts and professionals for over 30 years. Our designer appearance enhances garages and shops, and our cabinets stand up against the daily rigors of any environment.